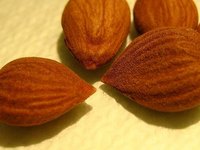 Vitamin B17 is an alternative treatment method for cancer patients. There are a number of theories that attempt to explain how B17 works as an anticancer therapy. However, a majority of the clinical tests that have been conducted indicate B17 is not effective for treating cancer. In fact, the chemical has been banned across the United States and Europe because it contains the poisonous compound cyanide.
What is B17?
Laetrile, bitter almond, apricot kernels and amygdalin are just a few of the different names B17 is referred to as. Typically, B17 is used in conjunction with other alternative anti-cancer therapies such as metabolic therapy, urine therapy or diet therapy. While B17 is an illegal chemical in the United States, it still remains legal for Mexico to manufacture. In addition, it can also be obtained from the kernels of several fruits including apricots, peaches, plums, cherries, nectarines, apples and almonds.
Potential Side Effects of B17
Some of the possible side effects that may affect cancer patients who use B17 include nausea, vomiting, headaches and dizziness. However, the most adverse side effect of B17 is cyanide poisoning, which has the potential to induce severe vomiting, seizures and even a coma. Serious cases of cyanide poisoning have been reported in people who have eaten large amounts of the fruits seeds that contain B17.
Theories and Clinical Trials Involving B17
Several different theories exist that attempt to explain how B17 cures cancer. One theory suggests that cancer develops due to a lack of the vitamin B17. However, there is no significant research that shows laetrile is a vitamin, or that a lack of it in the body will cause cancer.
Another theory is that the cyanide content of B17 has the ability to kill cancer cells in the body. While it is possible for cyanide to kill cancer cells, it is also possible that cyanide will negatively affect healthy cells in the body.
The National Cancer Institute has conducted several clinical trials that debunk any theories that suggest B17 is an effective form of anticancer therapy. One such trial involved 178 cancer patients who were treated with laetrile. After three months, 91 percent of patients showed cancer progression, and, by seven months, all 178 patients had enlarged tumors. Overall, the institute has found that B17 is not capable of causing cancer regression, nor does it have the ability to improve cancer patient's symptoms.