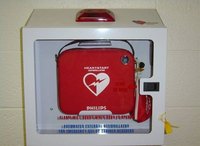 Automated External Defibrillators (AEDs) deliver lifesaving electric shock (defibrillation) to restart the heart of people who have suffered heart attacks. With AEDs, a layperson can deliver defibrillation to a heart attack victim quickly, before the arrival of emergency responders. AEDs have been installed and used in schools, casinos, airports, shopping malls and large office buildings.
Need for a policy
Though there is no Occupational Safety and Health Administration requirement for AED policies and procedures, some states and municipalities have instituted such policies. It's a good idea for an organization using AEDs to have a policy in order to clearly define the responsibilities and protocols for use of the AED. An AED policy and procedure should address three main areas: procedure, personnel and equipment.
Procedure
Procedure refers not only to the actual operation of the AED, but guidelines for determining when it should be used and a statement of purpose as to why the company has installed AEDs.
AEDs should only be used on people who are unconscious, unresponsive, and not breathing with no discernible heartbeat. Some equipment is not intended for use on children under 8 years old, or people weighing less than 90 lbs. You should indicate if your unit falls under these parameters.
It also is a good idea to have a medical doctor to help produce a written protocol outlining the operation of the AED.
Personnel
You may also want a doctor to sign off on training in the proper use of the AED. Your policy and procedure document should outline who is to be trained, how often the training will take place, and who will oversee the training.
Any employee or volunteer may be trained in the use of AED. Many policies point out that anyone who uses an AED in an attempt to save someone's life is exempt from any liability. This Good Samaritan protection is afforded under U.S. law passed in 2000.
You should also appoint someone to be in charge of your AED program. This person will keep records of who is trained and when, report any incidents in which the equipment is used, as well as keep maintenance records for the machine.
Equipment
Your document should list the equipment used, its location and establish protocols for maintenance, including how often the machine will be serviced, who will perform the service and what they will do to maintain the device.