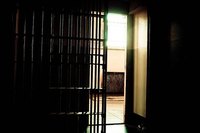 Many men and women across the world participate in pen pal programs designed for prison inmates. Examples of these programs include the website writeaprisoner.com and many others. Being a pen pal to a prison inmate can bring a sense of good karma to some, as it provides human contact for lonely prisoners. However, romantic feelings can develop between the pen pal and the inmate, resulting in the two individuals falling in love. This situation happens all the time and has its success stories as well as its failures.
Know What You Are Getting Into
If you are browsing inmate profiles on a pen pal or dating website, keep in mind that not all people leave the prison system rehabilitated. In fact, according to Bureau of Justice Statistics (BJS), more than 50 percent of violent criminals in U.S. prison systems are repeat offenders. This statistic asserts that same percentage will re-enter the prison system within three years of release. It is important to not only know what your potential pen-pal is in prison for, but to also keep in mind that these statistics are important to remember. It isn't a very good idea to get involved with anyone who is doing a prison sentence for a violent crime or sex related crime, as these crimes are very often repeated. Getting involved with a dangerous individual can possibly leave you vulnerable to misfortune. To assure your safety while being a pen pal to a prison inmate, use a Post Office box or an anonymous web-based email address.

Take Your Time
Whether you're corresponding with someone on a long-term prison sentence or a short one, it is important to take your time and take things slowly. Falling in love with a prison inmate can be dangerous if you move too fast. Try not to reveal too much about your personal life in the beginning. In the event you are connected with someone who is a danger to you and your family, it is good sense to refrain from divulging too much, too soon. Be casual and keep in mind that prison life is lonely for many men and women. Some inmates may become apparently attached to an outside contact quickly, and it's important to keep things moving at a slow pace for the benefit of both you and the inmate. If deep romantic feelings have blossomed after extended emails or letters, discuss this with the inmate and plan for your next steps. Try not to rush to meet your pen pal the moment he or she is released from prison. Continue a long distance friendship for a few months to make sure the feelings are the same as when the person was incarcerated.
Taking It Further
Starting a real-time relationship with an ex-con can be difficult. Some prison inmates leave the system and are able to fully enjoy a normal life without crime but need the help of supportive loved ones to aide in their recovery from that lifestyle. It should go without saying that you must lead a life without criminal activity in order to keep this positive environment around your significant other. Keep his or her life free of negative influences, and even seek counseling to help in your relationship. You can be this person's much-needed second chance, so it is a good idea to only pursue a long term relationship with an ex-inmate if you truly feel your feelings are genuine.