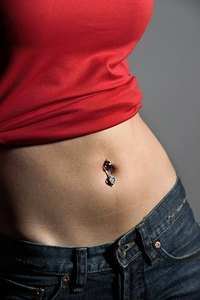 Stomach wrinkles, lines on the stomach that run horizontally across the abdomen, are caused by a buildup of excess fat and skin. These wrinkles are unsightly, but there are ways to reduce or even eliminate them. Exercise is key, and by building your abdominal muscles, burning stomach fat and supporting your routine properly, you will see a reduction of your stomach wrinkles in no time.
Building abdominals
Build your front abdominal and side oblique muscles to tighten the skin on your stomach. There are many exercises designed to target and build abdominal muscles, but two of the best are the basic crunch and the reverse crunch.
Basic crunch: Lie on you back, knees in the air bent at a 90-degree angle with the soles of your feet flat on the floor. Cross your arms across your chest. Lift first your shoulders, then your back up into the air with your abdominal muscles. Keep lifting until your torso forms a 30-degree angle with the floor, then lower yourself back down. Do not sit all the way up. Breath out on the way up and in on the way down. Do 20 to 30 repetitions.
Reverse crunch: Lie on your back with your legs straight and your arms resting by your sides. Lift your legs straight off the ground approximately 6 inches. Bring your knees up toward your chest (not into the air) and lift your rear end off the ground in a smooth, controlled motion. Lower your knees until you legs are straight, still about 6 inches above the ground. Do 12 to 18 repetitions.
Burning stomach fat
Burn stomach fat to reduce the appearance of stomach wrinkles. Unfortunately, there is no way to simply burn stomach fat. Under the right conditions, the human body will burn fat from all areas of the body, not any specific part. Cardiovascular exercise will burn calories and increase metabolism, which will burn body fat, including stomach fat. There are many forms of cardiovascular exercise. Combine high intensity cardio and low intensity cardio for the best results. Ways to get good cardiovascular exercise include bicycling, swimming, racquetball, running, rowing, walking or jumping rope.
High intensity: Includes any activity that gets your heart rate racing and your lungs burning. High intensity cardio should put your heart rate near its maximum level. Do high intensity cardio for shorter periods of time, around 20 to30 minutes. Think of this kind of cardio like weight training--explosive movement for short periods of time. You will burn a lot of calories and keep your metabolism high.
Low intensity: Low intensity cardio should put your heart rate at around 50 to 80 percent its maximum rate. Low intensity cardio will burn fat but not latent carbs, and it does not raise metabolism as effectively as high intensity cardio, but it generally has less impact on joints.
Supporting Your Routine
Keep good exercise habits, as this will go a long way toward making your time in the gym effective. Keep hydrated at all times during and after your workout. Drink more water than you think or feel you need. When building muscles, a diet rich in protein and leafy greens in important. Do not do muscle building exercises more than four times per week. Muscles grow during rest and recovery, and too much exercise will hamper your development. Change your routine ever two to three weeks. Substitute your current abdominal exercises for more difficult or simply different ones to avoid letting your body adapt to your exercises. Exercise alone is often not enough to burn fat. A healthy diet will go a long way toward helping you get rid of your stomach wrinkles.