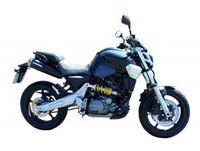 For some motorcycle owners, their bike is a personal thing. Those who own motorcycles are such big enthusiasts, that their bikes are more of a lifestyle choice than just a mode of transportation. If you own a bike and want to find a way to make it more personalized, consider a vanity license plate. It'll make your motorcycle stand out in a crowd.
Bike Model
Some motorcycles choose to use the make or model of their bike as the words for their license plates. For instance, "VULCAN." However, because this is such a popular choice for motorcyclists, you might find that your model name is already taken. You might try a variation with the name, and tack on some more specifics about the motorcycles with the name, such as "VUL900" or attach it to your favorite or lucky number, like "VLCN-5." Using the model for your vanity plates shows that you're proud of what bike you're riding and want everyone to know what kind it is.
Nickname
Perhaps you have a motorcycle related nickname that people call you, or one that you use online in motorcycle chat forums. This can translate to a great motorcycle license plate. Something like "BLUDVL" for someone with an affinity for blue painted bikes, or "HRLYMAN" for the person who is dedicated to his Harley. If there is a certain make and model that you drive and use that as your nickname as well, try adding an "r" on the end of it, like "SHDWR" for a Honda Shadow lover. Or, you can use a real life nickname that you go by sometimes that ties in with your motorcycle, like "LOWRDR" or "SPEEDY."
Gang Affiliation
There are many motorcycle gangs that you might become affiliated with for one reason or another, and that affiliation might be a good idea for a motorcycle license plate. Perhaps everyone in the gang is assigned a number to put on their bikes, and so each member can recognize other members just be seeing their license plate, such as "HLANG5" for Hell's Angels or "OTLW-9" for the Outlaws. You might even use "BACA-8" for those members of Bikers Against Child Abuse. Check with the rest of the motorcycle gang to see if anyone else has affiliate license plates to see what the plate trends are.