A stylish, durable outdoor patio floor anchors relaxing family get-togethers and neighborhood potlucks or barbecues. While you can choose from classic patio floor materials such as bricks and concrete pavers, new flooring materials offer a different look and are often fabricated from partially recycled materials. Whether you undertake the installation yourself or hire a skilled professional, ensure that your finished patio floor features smooth, level surfaces that present minimum hazards to family and guests.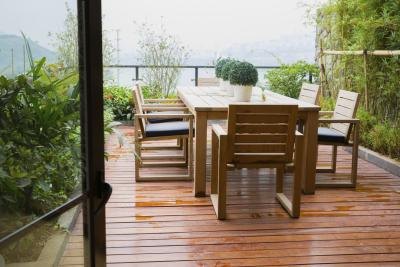 (robinimages/iStock/Getty Images)
Composite wood tiles evoke the warmth of wood without the potential maintenance and durability issues. Each eco-friendly tile contains a blend of new and recycled bamboo and wood fibers, along with polyethylene. Structurally, each tile's interlocking base is topped by slats featuring a faux wood finish. Composite wood tiles don't split, crack or rot, and you don't need to regularly oil them to prevent fading problems. With this low-maintenance flooring material, you'll have more time to share your patio with family and friends.
Durable colored concrete adds a new dimension to your patio decor. A skilled concrete contractor can create a single-color patio floor, or he can design a palette of complementary colors that adds more impact. To break up an expanse of similarly textured concrete, consider a broom-sweeping technique that results in swirling effects, or stamp the concrete with favorite patterns or motifs. If you'd like to further personalize your patio, add insets of other stones or treasured personal items such as shells or sea glass.
A recycled-rubber tile patio floor presents an impact-absorbing surface that also minimizes slips and falls. These durable interlocking floor tiles resist dents and stains, and they fit together so tightly that trip hazards are virtually eliminated. Because these environmentally friendly tiles are available in varied colors, you can integrate your patio into your larger outdoor landscape design. Minimize installation headaches and costs by placing your recycled rubber patio tiles on top of existing asphalt, wood, concrete or soft ground surfaces.
This earthy-looking patio floor features randomly shaped flagstones shaved into natural layers. The delightfully random pattern complements the low-growing ground cover planted between the flagstones. You won't spend much time trimming or watering the ground cover, and you can easily hose off the flagstones if you spot some wayward mud or spilled drinks.
Promoted By Zergnet