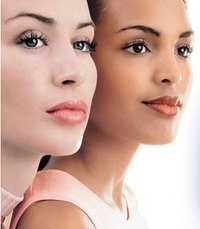 Acne is an inflammatory condition that causes painful pustules, papules, and cysts on the skin. Acne can effect both men and women, typically worsening around periods pf hormonal surges, such as during puberty, pregnancy, or a menstrual cycle. Painful acne can be treated using a few easy to use products that work in combination to dry up and prevent acne breakouts.
Gentle Soap
Painful acne requires the use of a gentle cleanser or soap, which will clean the skin without causing any inflammation or redness. Most commercial soaps and cleansers will be too harsh to use on sensitive, acne-prone skin. They can cause the skin to become too dry, and can remove too much of the skin's oils and skin cells. This is because commercial soaps contain perfumes and additives that are designed to cut oils and grease on the skin. Gentle soaps contain no harsh ingredients, and will allow the skin to be cleaned without harming it. Try to avoid irritating your skin physically when washing it by rubbing or scrubbing too hard. To wash your skin, lather up your hands with soap or cleanser, then gently massage the lather onto your face and rinse.
Mild Benzoyl Peroxide Cream
After washing your face, it is important to gently medicate painful acne. The most powerful product to clear skin is benzoyl peroxide cream. Because there are many different strengths of benzoyl peroxide creams available, it can be difficult to know which one will treat painful acne the most effectively. In order to reduce and eliminate painful acne without irritating or inflaming the skin, use the 2.5 percent concentration benzoyl peroxide cream, which can be found at any drug or grocery store. Apply a nickel-sized amount, gently spreading it around the skin until it dries.
Oil-Free Lotion
Using a medicated cream to treat painful acne will clear the skin, but can become too drying if used independently. In order to avoid unnecessary dryness, use an oil-free lotion afterwards. Choosing an oil-free version of a moisturizer will hydrate the skin without causing clogged pores. Oil-free lotions and moisturizers can be found at any grocery or drug store, and come in a sensitive-skin variety. Using an oil-free lotion for sensitive skin will prevent any unwanted interactions that could occur when using a benzoyl peroxide cream, such as skin burns or peeling. Use an amount roughly the size of a dime, spreading it gently around the skin until absorbed.