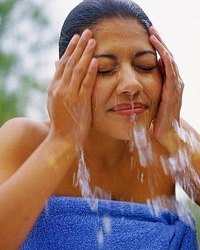 Acne cysts are painful, large acne blemishes that can be difficult to alleviate and treat. There are many different products that are sold to treat acne, but in order to effectively treat acne cysts, and prevent their return, specific acne products must be used in a specific way. When these products are used properly, acne cysts can be reduced and prevented.
Cleansing Gently
Cystic acne can become inflamed and irritated if the skin is constantly bombarded with harsh soaps and cleansers. This is because most commercial soaps contain chemical ingredients that are designed to cut through and dissolve oils, as well as perfumes that can irritate the skin. When choosing a cleanser or a soap, make sure to select one that is designed to cleanse sensitive skin, as it will contain no harsh ingredients or additives that could potentially irritate the skin. Use a gentle touch when washing the face, making sure to avoid scrubbing or rubbing the skin when washing. All that is needed is to lightly lather the face, then rinse with warm water.
Medicating Properly
In order to treat cystic acne, which can be worse that standard pustules or papules, it is necessary to medicate the skin using a 2.5 percent benzoyl peroxide cream. There are stronger creams available in supermarkets, but using a stronger concentration of benzoyl peroxide cream will cause the skin to become red, irritated, or even burned chemically. Use around a nickel sized amount of a 2.5 percent benzoyl peroxide cream, and gently apply it to the skin using your fingertips until it dries completely. Avoid massaging the cream into the skin too aggressively, or it could disrupt the delicate surface layers of the skin.
Re-Hydrating the Skin
Using the medicated creams on their own can be drying for the skin, even in the lightest concentrations. Because of this, it is important to moisturize the skin after using a benzoyl peroxide cream. Moisturizing the skin can allow the skin to become soft and supple, while still allowing the skin to receive the benefits of the benzoyl peroxide. Make sure to use a oil-free version that does not contain comedogenic substances that could block or clog the pores. Avoid lotions that are designed for treating wrinkles or aging, as they can contain ingredients that could interact poorly when combined with the benzoyl peroxide cream. A dime-sized amount, gently applied to the skin, can maintain a well hydrated, acne-free complexion.