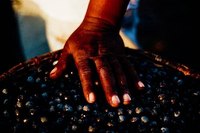 Acai berries are a fruit harvested from acai palms in the Amazon rainforest. While medical data only supports their high antioxidant, fiber, and heart-healthy fat content, they are widely marketed as a weight loss, cholesterol-reducing, and energy-boosting miracle. Fresh berries, which contain the highest levels of healthy nutrients, spoil quickly, thus acai-derived products remain more popular than fresh acai berries themselves.
Description
Acai berries are small and deep purple in color. They are primarily composed of seed and can only be found on certain palm trees in the South American rainforest. It is considered to be one of the top 10 superfoods due to its wide, inclusive range of health benefits. Acai berries contain omega three, six, nine, many vitamins and nutrients, as well as protein. As such, it is nearly perfect as a meal replacement.
Availability
Acai berry products are widely available in many forms. These range from dried berries, to nutritional supplements, to juices. While originally only available in health food stores and vitamin stores, acai berry products can be found on the shelf of almost any supermarket today. Frozen acai berries and acai powder are still relatively rare, but can usually be found at upscale health food stores.
Many online stores carry acai berry products, although it is difficult to access their quality and freshness. Due to the problems posed by the quick spoilage of the berries, even a store's general reputation may not be a good indicator of the quality of its acai-related products.
Considerations
When packaged as a weight-loss aid, acai products tend to be much more expensive. There is little difference in the nutritional content of such products, although processing tends to diminish their effectiveness.