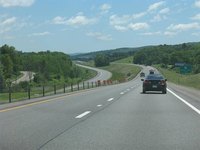 As families grow, taking a vacation becomes more expensive and economic downturns cause people to question if they can afford to go on vacation. Planning a budget-friendly vacation that will provide recreation for parents and children is just a matter of "thinking out of the box."
Traveling to your Destination
The cheapest way to get to your destination is by car, so choose a place that is within a reasonable driving distance. Do a little research on what you might pass on the way and incorporate these attractions into your drive.
Lodging
Lodging is your biggest expense. Inexpensive motels or tent or cabin camping are your best bets. Camping may be something you never considered, but many campgrounds and state parks rent out cabins at reasonable prices.
Cabin Camping in State Parks
Many state parks rent cabins are that are much cheaper than private or commercial facilities. These cabins, many built in the 1930s by the Civilian Conservation Corps, range from one-, two- or three-room units with refrigerators, stoves, storage cabinets or shelves, and bunk or double beds. Shower and bath facilities are nearby or adjacent to the cabin and, at some parks, the camper has the only key to his bath unit. A two-room cabin can be rented for as little as $33 a day. Reservations should be made well in advance. Visit your state's official state park website for details.

The Finger Lakes Region of New York
The Finger Lakes reach out from Lake Ontario like a giant hand in West-Central New York State. You can find many budget-friendly motels and commercial cabin accommodations at the Finger Lakes, and many state parks in the area rent cabins. Because of its glacial history, the Finger Lakes are home to more than 1,000 waterfalls. The Finger Lakes offer fishing, swimming and boating, and their forests are hiking wonderlands. Area museums, nature centers, universities and historical sites will delight the family and provide educational opportunities.

Knoebels Amusement Resort
Knoebels Amusement Resort in Elysburg, Pennsylvania, is a family-oriented resort, with rides and attractions for everyone in the family. Their amusement park charges no admission fee, and most of their kiddie, family and thrill ride prices range between 75 cents and $1.50. Flat rate passes are available, and Wednesday and Friday are "Bargain Nights," where an $8.50 ticket will get you on most rides. Knoebles features a pool and waterslide rides, and a golf course. Other attractions include a bald eagle habitat, an XD Theater, a shooting gallery and several museums. Throughout the summer, patrons can enjoy live rock, country and jazz bands, and magic and comedy shows. Golf packages are also available.
Lodging at Knoebels is as simple as crossing the road to their campground. Choose a tent site, a cabin or a "dream suite" in a park model unit that's furnished with a round bed, heart-shaped tub, bath, kitchenette and mood lighting. Knoebels' second campground, Camp Glory, is a short drive from the park, and shuttle service to the Amusement Resort is provided.
If camping isn't your cup of tea, check out the "Local Lodging" page on the Knoebels' website.