Targeting your rear end with concentrated exercises will add some tone and shape, even in a short time. Exercises that shape your butt offer the added benefit of working your thighs and hips. Target exercises should always be combined with a regular workout routine involving strength training and cardiovascular activity. Note that target exercise will not burn fat---these types of exercises will only tone the muscle beneath the fat.
A two-week time limit doesn't offer a lot of wiggle room. You'll need to work out every day. This doesn't mean drive yourself into the ground with aerobic activity. Instead, make sure you engage in some sort of activity every day, even if it's just a brisk walk or a half-hour of light calisthenics (jumping jacks and stretching), and tack on the recommended exercises to the end of your aerobic routine. This is the best approach because your muscles will be warmed up and more responsive to the target exercises.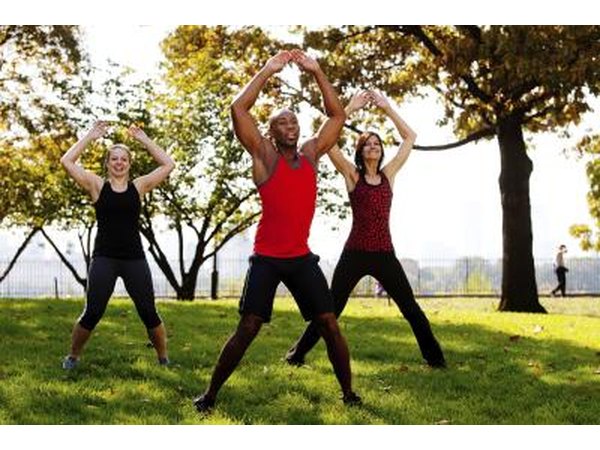 tyler olson/iStock/Getty Images
Squats offer butt-toning benefits, and a workout for the legs, too. Stand with your feet about shoulder-width apart. Straighten your back, relax your shoulders, and place your hands on the tops of your thighs. Bend at the knee, sliding your hands down your thighs. Don't extend your knees over your feet to help maintain straight posture---pretend you're sitting down into a chair. Perform squats until you feel your muscles fatigue. Vary the width of your stance to work the glutes from multiple angles. Place your heels together and turn the feet out like a ballerina or step out into a wider stance for deeper squats.
The lunge is a core exercise for a better butt. Take a large step forward with one leg. Don't lean forward, but align your hips, back and neck and retain an upright posture. Bend both knees, dropping the back knee until it touches the floor. Straighten the legs without returning fully to an upright stance then dip down again. Change leading legs to work both sides until your muscles fatigue. Add hand weights or 10-lb. dumbbells to make this exercise more challenging.
Step-ups involve simply stepping up and down onto a step or bench. Wear supportive shoes and focus on keeping a straight posture. Five minutes of step-ups will provide a butt-busting workout. Make sure to warm up first, especially with calf stretches.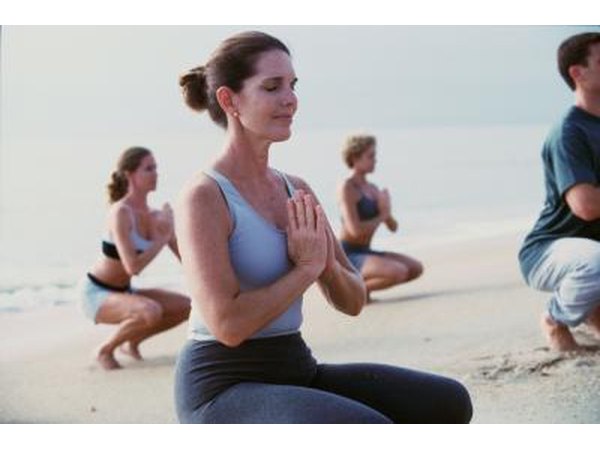 Ingram Publishing/Ingram Publishing/Getty Images
Lie prone with your arms at your sides. Bend your knees to place your feet flat on the floor, hip-width apart. Tighten your abdomen and buttocks and lift your hips toward the ceiling. Focus on keeping your shoulders on the floor. Keep squeezing your glutes as you do your repetitions. Vary this exercise by placing one ankle on the opposite knee. Lift in the same manner, making sure to squeeze your glutes tightly.
Get onto your hands and knees. Align your body from neck to hips, and keep your back straight. Tighten your abdomen and buttocks. Lift one leg in a bent position until the flat of your foot points toward the ceiling. Don't arch your back; squeeze your glutes with each lifting motion.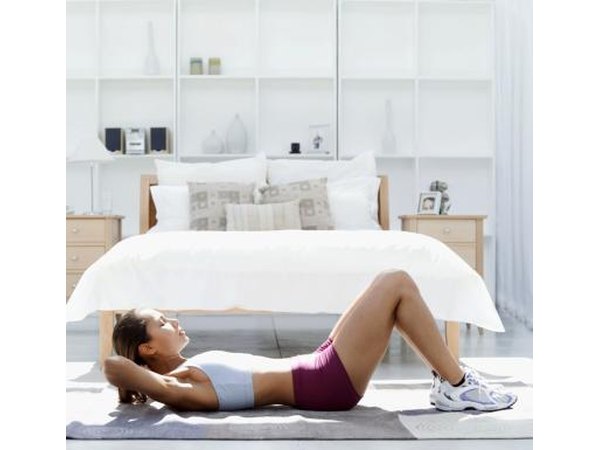 Stockbyte/Stockbyte/Getty Images
Promoted By Zergnet