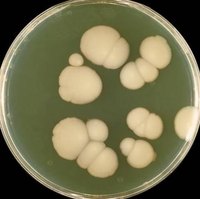 There are times that candida albicans can grow out of control in the large intestines. Though this yeast-like fungus lives naturally in the body, this overproduction can cause a number of ailments. Many people suffer from headaches, gastrititis, hives, rashes, mouth thrush, pain, and even autoimmune diseases such as Epstein-Barr virus and chronic fatigue syndrome. Fortunately, there are remedies for candida overgrowth. The best cure for candida is to employ the proper combination of an improved diet, supplements, medicine and colonics (or colon cleanses).
Diet and Supplements
If you are diagnosed with candida, you will need to eliminate all yeast and glutens from your diet. This can be a challenge because most breads, pastries, cereals, pastas, snacks and packaged foods contain both. A gluten-free diet will usually eliminate yeast as well. Most people with systemic yeast problems can tolerate brown rice, which contains no glutens. Many breads and pastas are made from rice. You can also eat spelt bread as a substitute for wheat or multigrain bread. If you like snacks, there are plenty of gluten-free crackers and cookies made from pecans, almonds and other nuts. These foods are available in the health-food aisle at most major grocery stores.
Supplements are also important for ridding the body of excess candida. Probiotics can help to rid the body of this fungus, as can digestive enzymes. Other yeast-killing supplements include garlic, Paul D'Arco tea, grapefruit seed extract and cat's claw. Often coconut oil can be used in lieu of vegetable oil to help eliminate the overgrowth of candida.
You should understand that when yeast dies in the system, it produces toxins. This reaction can make you feel bad a times. However, this side effect will subside over time as your system gets rid of the yeast.
Medicine
Most doctors will prescribe nystatin to treat candida. This usually comes in powder or pill form. Understand that doctors are not proponents of some of the aforementioned supplements. Nystatin is not required to cure a systemic candida problem. It is up to you to take a more natural path to getting well.
If you have a yeast infection in the vaginal area, nystatin creams are available. But chances are that these symptoms will reoccur if you do not get your diet under control. Thus, a combination of treatments is still your best option.
Colonics
Colonics are often used to treat an overgrowth of candida. The main reason is that dying yeast spews out toxins in the intestines. If these toxins are not eliminated, they can make their way into your blood stream.
Colonics are almost essential for people with severe symptoms, such as those who have autoimmune diseases. A licensed colon therapist usually oversees the sessions. At least six sessions will be recommended initially. People with more chronic problems will be treated much longer. A self-contained system is used to flush the large intestines with purified water. As much as 30 gallons of water can run through the three areas of the large intestine: The ascending, transverse and descending sections (bowels). Enemas do not come close to reaching all areas of the bowels. Home units can create many interruptions but are more effective than enemas. Most people feel better after having colonics done.
Some people use colon cleanses to get rid of a yeast infection. These usually come in powder form.