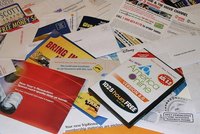 Direct mail has been an effective advertising tool for many years. Companies use it because it is one of the few advertising vehicles where specific results can be measured. But it's expensive, so it's imperative that you get results. There are a lot of creative ways to use direct mail. The techniques you use often depend on what you are trying to accomplish.
Provide Attractive Incentives
Include a coupon, free trial or sample of your product. Offer a money-back guarantee. Give potential customers a real incentive for responding to your offer, then provide them with a special deal that is good only for a specified period of time. This technique is used effectively by companies such as Procter & Gamble with some of their $1 billion brands.
-
Participate in co-op Mailings
Co-op mailings are a great way to save money while targeting your material to a specific audience. Companies such as Reach Magazine and Harte Hanks will send out direct mail pieces for less than $50 per 1,000. These mailings are targeted to specific ZIP codes and demographic groups -- for example, households in a certain suburb with annual income over $75,000.
Test Your Campaign
Testing a direct mail campaign before expanding it can save a lot of expense. You can do "price splits" -- offering your product at two separate prices to different yet similar sectors of the market. Or try different versions of copy and see which one pulls in the biggest response.
Send People To Your Website
Give potential customers an incentive to go to your website for additional information. You may have them check out a podcast or short instructional video. People do not like to read entire sales letters. They would rather watch someone explain features and benefits.
Creative Postcard and Self MailerTechniques
Direct-mail postcards need to reflect the type of offer you are mailing. Since most postcards are used to generate leads, a catchy heading is invaluable. For example, a state lottery could send out a glossy postcard showing people who have won the lottery. The heading might read, "These People Have Won Over $10 Million Playing The Lottery. Now It's Your Turn." If your business or product has anything to do with investing or earning money, you can send a small postcard out in the shape of a $100 bill. This eye-catching technique has been used with success.
With self-mailers, don't assume people will fill out a card and send it in, even if they're interested. Use a special offer or other incentive to motivate them. For starters, if you have a bulk-mail permit, you can cover their postage.
Creative Techniques Using an Envelope
Use teaser copy on the envelope to pique the recipient's curiosity enough to open it. A strong heading and offer can then work its magic. "Free Offer" works especially well.
Be creative with the order form. Use the "Limited Time Only" offer. Give the buyer only seven to 10 days to order the product to get a discount.
If you underline key benefits throughout a sales letter, it allows recipients to scan for key information. That makes them more likely to follow the letter to the end.
One technique that works well is to offer free products up front. Charge the customer for shipping. Put a stipulation in the agreement that the customer must order so many products within a certain time period.
Newsletter publishers many times offer free products. These products provide useful information -- but also serve to promote other products within their pages.