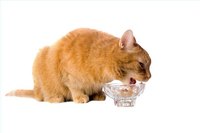 For a diabetic cat, a high-protein, low-carbohydrate, all-wet food diet can make the difference between going into remission or being on insulin for life. Not all wet foods are created equal though. Taking the time to evaluate the ingredients in cat food is especially important when you're creating the best diet for a diabetic cat.
Cats need meat
Cats are obligate carnivores and need animal protein (meat) and moderate amounts of fat. Wet food with meat listed on the label as the first or second ingredient will help keep your diabetic cat's blood sugar low. Some good choices are Evo 95% Meat, Wellness CORE and Before Grain. PetCo sells Wellness CORE. Independent pet supply retailers sell all three.
Try raw food
The cat's natural diet is raw food. Most independent pet supply retailers sell frozen raw cat food, which is high in protein and low in carbs, or try making your own (see Resources).
Supermarket Brands Work
There's no point in buying all-natural canned food if your cat refuses to eat it. Many diabetic cats thrive on such supermarket brands as Fancy Feast and Friskies. The gourmet or pate flavors, such as Turkey & Giblets, Salmon, and Liver & Chicken are high in protein and low in carbohydrates.
Skip the gravy
Canned foods with "sauce" or "gravy" tend to be high in carbs and can cause your cat's blood sugar to skyrocket. The "grilled" flavors of Fancy Feast are also very high-carb.
No rice or soy
While wet food that combines chicken or fish with rice sounds good to human guardians, cats don't use the protein in rice efficiently, and it, too, can make your diabetic cat's blood sugar climb. The same is true of soy. Cats need protein from meat, not plants.
Dry food
If your cat insists on eating dry food, try offering a grain-free, low-carb brand, such as Evo, Before Grain or Wellness CORE. Most independent pet supply retailers sell all three. Veterinarian Lisa Pierson has suggestions for transitioning a cat from dry to wet food on her website (see Resources).
Prescription Foods
Most prescription wet foods contain soy, powdered cellulose and other ingredients that do not provide adequate nutrition for a cat.