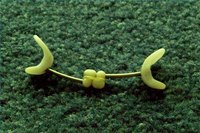 So-called "laugh lines" aren't funny if they betray our age. These nasolabial folds run from the corners of the nose to the outer corners of the lips. As we age, fat from the central part of the face drops downward, allowing the facial skin to droop and the folds to become deeper. Surgical and cosmetic procedures can reduce laugh lines, but easy facial exercises can also help.
Exercise Daily
These facial exercises should be done every day. Be patient; it may take four weeks or more to see a result. Always begin your facial exercise program by applying moisturizing lotion or cream to your face.
Seven Exercises
Use your cheek muscles to pucker your lips. Be sure you can feel your cheek muscles doing the work. Hold the position for five seconds, then relax. Repeat the movement 10 times.
Put each of your index fingers inside your mouth and open your mouth wide, using a slight pull in the corners of your mouth. Hold this position for two seconds. Then, using your fingers for resistance, try to close your lips
Smile with your lips closed, then try to suck your cheeks inward toward your teeth. Hold this position for 10 counts and then relax and repeat it 10 times.
Inhale through your mouth and puff out your cheeks, holding the air in your mouth for one minute. Slowly exhale through your nose. Repeat five times.
For a variation on the last exercise, close your teeth and lips and blow air upward under your top lip. Hold the air there for a count of 10, then try moving the air first to your left cheek, then to your right cheek, holding it in each position for a count of 10. Finally, move the air downward under your lower lip and hold it for a count of 10. Repeat this exercise five times.
Smile widely as possible while keeping your lips closed and the corners of your mouth turned up. Feel like you are going to touch your ears with the corners of your mouth. Now, wrinkle your nose and feel the muscles of your cheeks move upward. Hold this pose for a count of five, then relax and repeat it 10 times.
Make a wide O with your lips. Try to smile without changing the O position. You will feel the resistance in your lips. Hold this position for five seconds, then relax and repeat the exercise five times, building up to additional repetitions.
Use a Device
A device called Facial-Flex fits into the mouth and offers resistance to increase strength of facial muscles. You place the device inside your lips and press the corners of the mouth together as far as possible, into a small O shape.