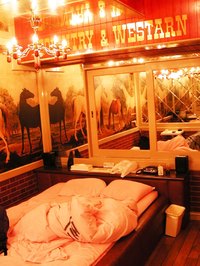 While Asia is a little more reticent about the subject of sex, the easiest way to find a destination for adult pleasure is to look for a "Love Hotel," which is a place designed primarily for couples to engage in intercourse. These hotels are identified by hearts on the door and offer rest periods as well as overnight stays. And they almost always have an interesting theme to them.
Japan
Hotel Paruko, Shibuya. Rooms include a race-car bed, a heart-shaped bed and a "cereal bowl" hot tub. Hotel Sekishu, Tokyo. This is more traditional with straw mats, beds on the floor and paper walls. Each bathtub is full of hot stones. Hotel Manjo, Uguisudani. Welcome to the wild, wild west, with this cowboy-themed lodging experience. Be careful not to get caught on a spur.

South Korea
The Honeymoon Park Inn, Seoul. A favorite for many during the World Cup soccer tournament earlier this decade. Eros Motel, Seoul. The Korean "Love hotels" tends to be a bit seedier than their Japanese counterparts, but they still get the trick done. Love-In Park, Seoul. At least this one has a parking lot.
Taiwan and Hong Kong
Love hotels are much harder to find in these countries and don't try to make reservations ahead of time. Looks for names like Eden, Desire and Palace-of-(insert euphemism).