Nasal drainage and sore throat are two of the most common symptoms associated with a cold or the flu. They also can be a sign of allergies. The first symptom--drainage--often precipitates the sore throat by irritating the throat with excess mucus and possibly bacteria. Remedies for nasal drainage and sore throat range from homemade solutions to prescription medications.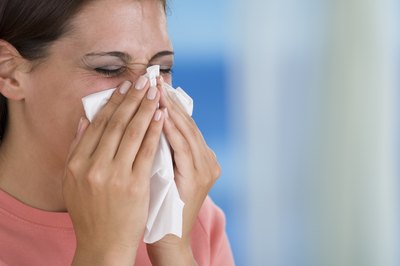 Treating the Symptoms
For nasal drainage, try using a humidifier or a vaporizer to clear sinus passages more effectively. A steamy shower can help as well. Saline solutions work well for runny noses and sore throats. For nasal drainage, prepare 1 cup of slightly warm water by adding 1/2 tsp. salt and 1 pinch of baking soda. Use a nasal bulb syringe to spray the solution several times into each nostril. Wait 1 minute and then blow your nose. For a sore throat, mix 6 to 8 oz. warm water with 1 tbsp. salt. Gargle the water and spit it back out; continue until you have finished the glass. For over-the-counter remedies, try a decongestant or antihistamine for the sinus drainage. Throat sprays and lozenges can help relieve the pain of sore throat, as can acetaminophen and ibuprofen.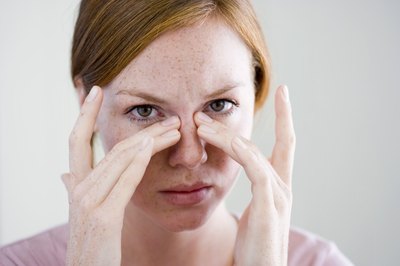 Treating the Underlying Problem
As mentioned before, nasal drainage and sore throats often indicate an underlying condition. If the condition is viral, as in colds and flu, begin by getting extra rest. A well-rested body is better equipped to heal properly. Stay hydrated by drinking plenty of water. Consuming various broths and soups also can hydrate you, soothe your sinuses and throat and help your body to fight infection. Juices can be an extra source of hydration and vitamins.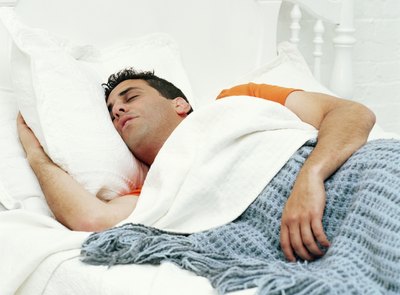 Seeking Medical Help
Sore throats and nasal drainage can be indicators of a bacterial infection, such as a sinus infection or strep throat. If your nasal and throat symptoms are accompanied by a fever of 102 degrees F or more or if your throat feels swollen and is severely painful, see your doctor as soon as possible. If these symptoms coexist with an intense headache, high fever and a stiff neck, go to the emergency room, as this could indicate meningitis. For routine bacterial throat and nasal infections, your doctor will prescribe antibiotics to cure the condition.