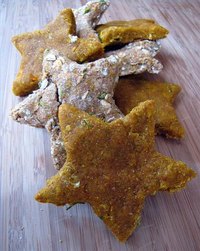 If you've ever read the list of ingredients in store-bought dog treats, you probably noticed that there are a multitude of added chemicals, colorings and preservatives. Homemade biscuits are a great way to treat your dog to a wholesome, tasty custom snack without all the artificial additives. The peace of mind that comes from knowing exactly what is in the treats you give your pup is worth the small amount of time and effort that goes into making them yourself. These easy to make recipes containing oatmeal and wheat flour are a healthful alternative to store-bought dog treats.
Beefy Treats
In a large bowl, mix 2 cups wheat flour with 1 tsp. baking powder and 1 cup oatmeal. In separate bowl, microwave 1 cup frozen mixed vegetables until warm. Puree in blender or with electric mixer. Stir in four egg whites and 1/3 cup beef broth. Add to the dry ingredients, and mix well until a dry dough forms. Knead dough by hand, and roll out onto cutting board. Use cookie cutters to form shapes or roll into 2 inch diameter balls and flatten. Place onto nonstick cookie sheet, and bake at 350 degrees for 30 minutes or until firm.

Veggie Treats
Mix together 2 cups wheat flour, ½ cup oatmeal and 1 tsp. baking powder in large bowl. Prepare 1 cup of frozen mixed vegetables as instructed above, and add 4 egg yolks, 1 cup canned pumpkin and ¼ cup olive oil. Add to the dry ingredients and mix well, using hands to knead dough. Dough will be somewhat sticky. Form into balls and flatten into round cookie shapes approximately ½ inch thick. Bake on nonstick cookie sheet for 25 to 35 minutes or until golden brown on the bottom.