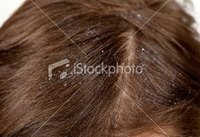 Many people suffer from dandruff and, while it is not a condition that requires medical attention, it can be very embarrassing for the people who have it. It causes some people to have low self esteem.There are many effective treatments for dandruff, including natural remedies. Once of the most inexpensive ways to treat dandruff is with vinegar.
What is Dandruff?
Dandruff, also known as scurf, is a condition characterized by a flaking, itchy scalp. Dandruff is one of the most common dermatological conditions and can be caused by a number of things, including lack of nutrients in your diet, yeast, fungus and frequent use of soaps containing high alkaline levels. Dandruff occurs when there is an abundance of dead skin cells being shed from the scalp, leading to white flakes on the head, neck and shoulders.
What Variety of Vinegar Should I Use?
There is some confusion about which type of vinegar works best to treat dandruff. Actually,either white vinegar or apple-cider vinegar can be effective in treating dandruff.
White Vinegar
The most inexpensive vinegar is white vinegar. It also has a long shelf life because of its acidic nature. White vinegar does not need refrigeration and will remain almost unchanged over a long period of time.
Apple-Cider Vinegar
Apple-cider vinegar will kill any fungus that may be present and help restore the proper acid/alkaline balance of your scalp. A great added benefit is that vinegar will also add shine to your hair.
How Much and How Often Should I Use Vinegar?
Mix one part warm water with one part vinegar and apply the solution to your hair after you have shampooed. Be sure you have enough liquid to thoroughly wet your hair. If you have long hair, you will need more liquid than if you have short hair. While vinegar will not hurt your hair, it is probably best to thoroughly rinse your hair with warm water.
For best results, treat your dandruff with vinegar once a week. If after a few weeks your dandruff has still not gone away, you can increase the vinegar-to-water ratio in the solution. You can also massage your scalp with the vinegar solution for an extra treatment once a week.