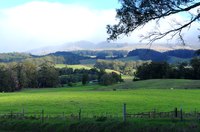 Once you've experienced Maui, you may never want to leave. Some don't, or that is they return to the mainland just long enough to prepare for what will likely be the biggest move of their lives. Those relocating to Maui may experience culture shock, but if slowing down and smelling the roses -- the island's flower is actually the cottage rose -- and sharing aloha in a truly multicultural society sounds good to you, Maui may just be the best home you ever had.
Getting Around Maui
On Maui, the main residential areas are mostly within 30 minutes of another. For example, Lahaina is about 30 minutes north of Kihei, and Wailuku is only about 20 minutes inland from Kihei. If you ship your car just before you leave the mainland, you may need to rent a car until yours arrives. You'll find most major rental car companies at Kahului Airport, and a small, public bus system serves the island.
Shipping Your Vehicle
Two major container lines ship vehicles from the mainland to the Hawaiian Islands: Horizon Lines and Matson. In Honolulu, the shipper transfers your vehicle to a Young Brothers barge -- the only company authorized to ship vehicles between the islands. It may be about 17 days from the day your car ships from the mainland before you can pick it up on Maui. Carefully follow the instructions on the shipper's website, which are very specific regarding safety such as what can and can't be in the car. Horizon Lines ships vehicles in containers, and you will be responsible for stabilizing your vehicle in the container, following their instructions. Matson ships vehicles in either a vessel garage or in the open air on a specialized auto frame. Keep in mind you are moving to an island where your car will be constantly exposed to ocean air and rain, so rust may occur. Some homes have garages and carports, but many do not. Keep the bill of lading or shipping receipt to show to Maui County's Division of Motor Vehicle and Licensing. You have up to 30 days to register it. You will first need to insure your car or update your insurance to your new Maui address. Take your insurance card to an Official Safety Inspection Station, which gives you a temporary sticker to take to the DMV when you register your vehicle and obtain the annual stickers and your Hawaii license plates.
Kihei and Wailuku
If you've decided to move to Maui but haven't settled on a place yet, know they are very different from one another. Condos and cottages overlook the six miles of beaches of Kihei in South Maui. The small city is sometimes called "Little California," but not all of Kihei's beaches are crowded. In Central Maui, Wailuku is Maui's county seat and charms with its old neighborhoods and juxtaposition of mom-and-pop stores next to stylish boutiques and euro cafes. Wailuku is 15 minutes away from windsurfing on the North Shore and is the gateway to lush I'ao Valley. It is about 10 degrees cooler than Kihei.
Upcountry and Hana
If you're looking for somewhere different from Kihei and Wailuku to settle, consider Maui's Upcountry, where small, artsy and rustic towns perch. Ranchers favor Makawao. And farther up Haleakala, produce and flowers growers take to Kula. Artists and restaurant owners thrive in Paia, which sits at the entrance to the Hana Coast. The town of Hana is home to naturalists, B&B owners, agriculturists, artists and simply those who want to get away from it all on a beautiful tropical coast. It's 55 miles from Paia to Hana on a narrow but gorgeous, cliff-hugging highway with 600 hairpin turns.
Flying to Maui
Kahului Airport is the primary airport on the island of Maui. You can fly from Kahului to Hana and to Kapalua airports. Several airlines fly non-stop from the mainland West Coast to Kahului. If you plan to bring a cat or dog, you will need to ensure your pets meet all requirements for entering the state of Hawaii. Because Hawaii is rabies-free, the state requires dogs and cats either fulfill all the requirements for direct release from the airport or they are sent to a quarantine facility for 120 days. If you want your pet to go straight to your new home with you, follow the state's regulations carefully -- the process takes about one year due to the timing of requirements including a rabies vaccine, rabies test and microchip implant. When you fly from the mainland to Maui with dogs or cats, you need to fly first to Honolulu International Airport where your pets will be inspected for parasites. From there you can fly on to your new home.
Moving Your Things to Maui
Deciding what to do with the furniture can be difficult. You might opt to ship your furniture to Maui on a container barge or have a big moving sale. Shipping companies include Matson and Royal Hawaiian Movers, and they ship to Kahului in East Maui. If you don't have enough household items to fill a container, you may be able to find someone on an online forum, such as Hawaii Threads, to share a container with you. If you're not shipping a house full of items, UPS is another option. You can save money by bringing your things to one of the mainland docks served by UPS and loading them onto a pallet. UPS then covers this with shrink wrap to protect from the salty air and water. USPS is yet another option. If you don't have an address yet, mail to General Delivery at a post office on Maui.
Cost of Paradise
The higher cost of things in Hawaii, particularly on Maui, can shock a newcomer, but in some ways it's like comparing oranges and apples. Yes, gas prices are the highest in the nation, but you won't be driving far. Prices for milk and cereal, when not on sale, double mainland prices, but fruits and vegetables are grown year-round. A gym membership isn't necessary; you can swim, hike, snorkel, surf, kayak and bicycle for free once you've purchased the bathing suit and gear. Beaches have free access, and water temperature averages range from 75 F to 80 F. Property and homes are expensive, but most rent on Maui, and it doesn't cost as much as many of the mainland's big cities, as travel blog Gadling points out. And you won't have the heating or air conditioning bills.