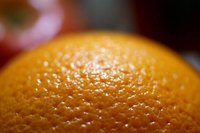 Cellulite refers to the fat that pushes against the skin's connective tissues, resulting in a bumpy, cottage-cheese look. Most women, and some men, have cellulite. While there are many creams and procedures claiming to get rid of cellulite, the only proven method to lose unsightly cellulite is through diet and exercise (and liposuction, which is expensive). Some people have more cellulite than others---it's just a matter of genetics---and while you may never rid yourself of cellulite, you can reduce the appearance of it.
Create an Exercise Routine---and Stick to It
Aim to do a combination of high-intensity cardiovascular activity plus strength training for 30 minutes, three days a week. Cardio burns calories and elevates your metabolism, which in turn burns more calories throughout the day. Strength-training improves muscle tone and gets rid of cellulite's dimpled appearance. According to a study in Glamour magazine, 75 percent of women who did 20 minutes of cardio and strength-training for three days a week noticed a dramatic reduction in the appearance of cellulite.
Talk to a personal trainer to develop a routine of strength-training exercises. You can do exercises to target specific problem areas, like cellulite in the behind or upper thighs. Squat presses, lunges and presses are good exercises to try. As always, consult with a physician before starting an exercise routine. Also, make sure to incorporate exercise into your life---ride a bicycle when possible and take the steps instead of the elevator.
Eat Right
Eating right and exercising regularly go hand-in-hand. If you want to see a serious reduction in cellulite, you have to do two things: eat healthy and work out regularly. Instead of dieting, use a common-sense approach to eating. Eat many small meals a day instead of three large ones. Jump-start your metabolism by eating breakfast every day and never skip meals.
Avoid foods high in saturated fat, cholesterol, sugar and hydrogenated oil---all of which pack on the pounds, leading to cellulite. Choose to eat plenty of fruits and vegetables, whole grains, legumes and lean protein foods. To lose weight, make sure you consume fewer calories than you burn., but don't skimp on meals to lose weight. When exercising, your body needs nutrients and calories for energy and sustenance. Focus on eating right, instead of eating less.