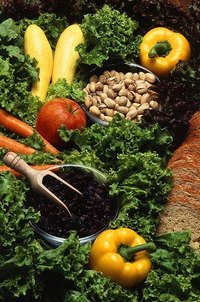 Hypoglycemia is a condition that can have a serious effect on your eating habits and energy. Luckily, the current trend of small meals and restricted sugar as a way to diet for weight loss is very similar to the typical hypoglycemic diet. There are a few guidelines to keep in mind.
Sugars and Fiber
In both a hypoglycemic and a typical weight loss diet, avoid all "empty calories" found in the high sugar content of sweets and sugar drinks. Foods products like soft drinks, cookies, table sugar, candy, cake and ice cream need to be cut out of the diet. Replace these products with complex carbohydrates that are rich in whole grains, like barley and quinoa. Complex carbohydrates tend to take longer to break down in the intestine. This will lead to a more balanced blood sugar level than if you'd eaten nothing but sweets. Whole grains, legumes, nuts, and seeds contain not only complex carbohydrates but also fiber, which delays digestion, the emptying of the stomach and the absorption of glucose. Fiber has been connected to weight loss and detoxification.
Proteins and Fat
Legumes, nuts and seeds also contain protein and the "good fats" known as monounsaturated fats. These fats have been shown to help regulate blood sugar and to be an important part of the heart-healthy diet known as the Mediterranean diet. Popular diets like the Zone Diet have also pointed to monounsaturated fats as the best fat for weight loss. Avoid the saturated fat in meat products, but very lean and farm-raised meat products tend to have much less fat and are a great source of protein. Protein is a good energy source for the hypoglycemic and should be consumed at each of the six small meals recommended for the diet.
What to Avoid
Avoid or eliminate caffeine in the form of coffee, tea, soda or medications. Since caffeine stimulates the production of adrenaline, it adds to the already high level of adrenaline created by hypoglycemia itself. Alcohol is a potential cause of hypoglycemia and can lead to an excess of glucose in the body. Since alcohol tends to drag down a diet anyway, it's probably a good idea to remove it completely as well. Ingredients that often come with preservatives and sweeteners like high fructose corn syrup, partially hydrogenated oils or heavy syrups are bad for everybody, including hypoglycemics. Most importantly, if you believe that you are suffering from hypoglycemia you should consult your doctor about the best eating plan for you.