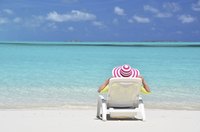 Cruise lines arriving at both Nassau and Freeport deposit their passengers into the heart of bustling shopping and entertainment districts, so those not booked onto an excursion can immerse themselves in what the Bahamas has to offer within minutes of leaving the ship. In general, visitors arrive from Florida ports and will not notice much difference in climate, because the distance traveled is relatively small. But you should prepare in advance for certain activities on the Bahamas.
Travel Essentials
Although the western isles of the Bahamas archipelago are only 50 or so miles from south Florida, the islands are a separate nation, so U.S. visitors need a passport. Those passengers on a so-called "closed loop" cruise from and returning to a U.S. port and not visiting any other island can get by with just a photo ID. Still, traveling without a passport tends to be a limiting rather than liberating experience, and there is no logical reason to leave yours at home. To rent a car in Nassau or Freeport, not really a necessity given the abundance of transport available, drivers will need a valid license, credit card and proof of age. Some rental agencies set a minimum age of 25. Younger travelers are allowed to purchase alcohol and visit the casino at 18 rather than 21, but again will be best served by carrying a photo ID.
Stay Comfortable
Bahamas temperature average between 80 and 85 degrees Fahrenheit during the summer months, so light cotton clothes should go in your suitcase. The winter months are slightly cooler, between 70 and 75, with the occasionally chilly evening, although few cruise passengers are on-island after dark. A light pullover or jacket is handy in venues where the air-conditioning is on full blast. Although steady trade winds generally keep the temperatures feeling cool, the tropical sun is deceptively brutal and visitors can burn even on cloudy days. Pack plenty of high SPF factor sun cream, a wide-brim hat or baseball cap for excursions on the water, and sunglasses to reduce glare. If you plan to take a tour of the mangrove area, some bug spray or mosquito repellent is a sound precaution, although the worst attacks are around dusk, by which time the majority of cruise ship passengers have left the island.
Sharpen Up Your Outfit
The sight of sunburned, shimmering cruise ship passengers in beachwear sauntering through downtown Nassau is tolerated rather than encouraged, but for the upmarket venues, visitors coming off the beach will have to raise their sartorial game. Visiting the better restaurants or casino at the Atlantis Resort requires a shirt and long pants for men, longer skirt for women, and shoes other than flip-flops. Swimsuits, cutoff shorts and logo T-shirts are prohibited. Those who want to take advantage of a bucket-list round of golf at the 18-hole Tom Weiskopf-designed course at the Ocean Club Golf Course on Paradise Island will need to put on a shirt with a collar and Bermuda-length shorts that are not denim.
Prepare for Action
If you don't want to lug a damp towel around the beach, consider a day pass at one of the hotels on Cabbage Beach, such as the RIU Palace, where towels are provided. The same applies for the cruise lines' private islands, such as Carnival's Half Moon Cay. A pair of waterproof plastic or rubber shoes are a wise precaution on certain beaches with small stones, such as the Western Esplanade near downtown Nassau, and protect against urchins and spiny fish when you wade in the shallows. Generally, tour operators provide everything you need, from snorkeling gear and life vests to binoculars on bird-watching trips. Visitors should definitely pack a waterproof or underwater camera and spare memory card, while divers wanting to take the Shark Scuba Diving adventure will need their updated certification book -- the experience is for certified divers only.