When planning a garden or backyard wedding, use the existing surroundings to your advantage. Whether you envision an elegant garden soiree or a casual backyard wedding, it is important to tie your decorations to the existing environment. Start by taking advantage of what Mother Nature has provided you free of charge and use the following tips to take your garden wedding decor to the next level.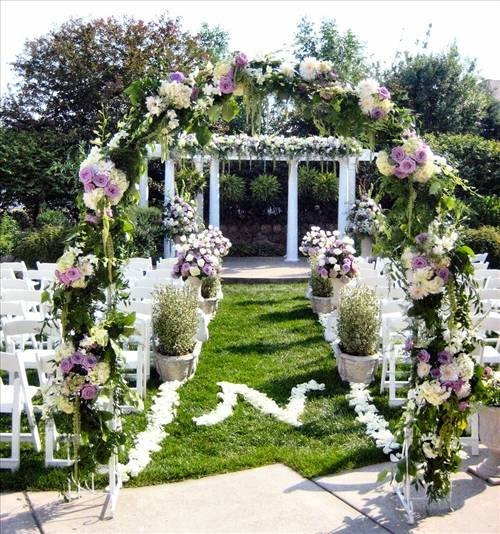 Gardens don't always have defined spaces for wedding ceremonies so you may have to create your own.
One of the best ways to define your altar space in a garden wedding is with an arch. Arches can have a big impact on your decor while having a small impact on your budget. They can be constructed out of lattice, which you can find at any home improvement store. Purchase three pieces of lattice, two for the sides and one for the top, fastening it together with nails, twine or even zip ties. Once your arch is constructed, you can swathe it with fabric or run grapevines or floral vines through the latticework.
Another option is to construct your arch out of four birch poles. Birch wood works well because it is sturdy and can support your decor, but its simple appearance makes it look natural in a garden setting. Use the poles at the four corners and create the top of your arch using strung flowers or foliage. For added effect, consider placing multiple arches down the aisle to further define your space.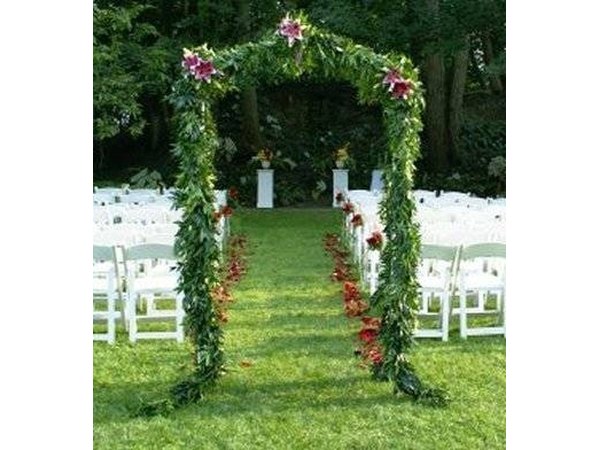 When designing your bridal arrangements, use flowers that complement the garden's existing flowers. Doing this will help you create a cohesive theme. If you are planning a formal garden wedding, use traditional flowers like roses or lilies. If you are having a more casual affair, you can use a variety of wildflowers tied together loosely with ribbon. Whichever direction you decide to go, if you incorporate flowers and colors that already exist in the garden you can't go wrong.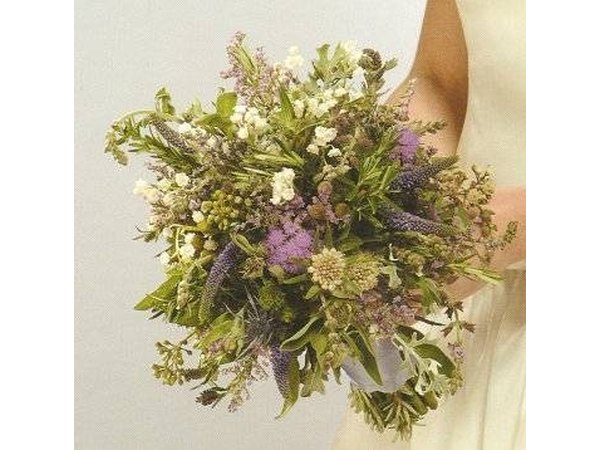 Centerpieces are a great opportunity to tie in your theme. Inexpensive options include growing potted flowers in attractive containers, moss-covered pots, or floating mature roses in clear glass bowls of water. Professional arrangements can be set in galvanized tin pails. You can bring in the garden theme even more by placing mixed bunches of cut flowers in vintage pails or watering cans. Just like the bouquets, if you draw your inspiration from the flowers and colors in the venue, your centerpieces can only enhance your garden decor. You can add to any centerpiece by scattering petals on the tables around its base.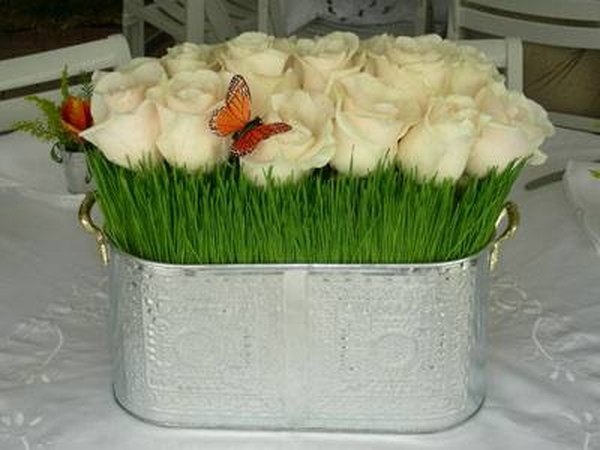 A successful garden wedding is all about details. Accent paths and walkways with potted palms or flower pots. Create smaller floral arrangements or decor pieces to adorn focal points in the garden like benches, railings and gazebos. If planning an evening wedding, candlelight is your friend. You can incorporate candles into your centerpieces or set them in Mason jars and scatter them throughout the area to create a beautiful glow reminiscent of fireflies.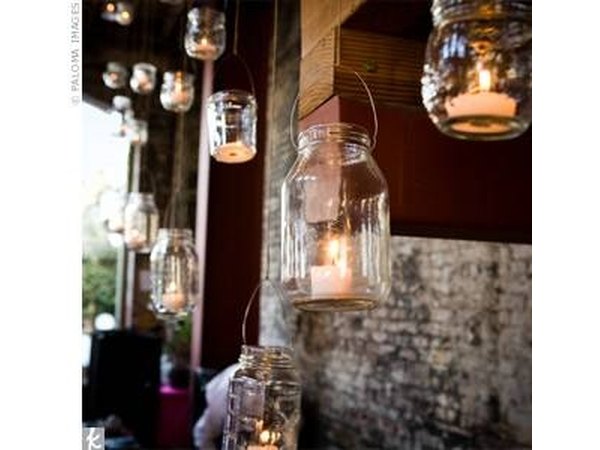 Promoted By Zergnet