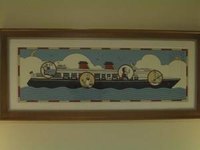 Like most cruise ships, Disney Cruise Line's ships have just about everything you might need to enjoy your trip. Once you get on board, you will find a well-appointed stateroom, activity areas, pools and plenty of restaurants and fast food counters. However, you'll still need to pack some essentials to be able to use the facilities and get the most enjoyment out of your Disney cruise. It only takes a few basics to be prepared for your trip.
Clothing
Disney Cruise Line tends to be less formal than many other lines because it is very family oriented. Longer Disney cruises have an optional formal night, so you can bring dress clothes if you wish. Adults must also bring a suit for men and a dress or pantsuit for women if they wish to have dinner at Palo, the adults-only restaurant. Otherwise, pack clothes for comfort and include swimsuits for the on-board pools and beach activities in the ports. Bring workout clothes if you plan to use the on-board fitness center.
Most Disney cruises feature a pirate party, and many families bring themed clothing to wear for this activity. Some families pack princess costumes for their little girls to wear to dinner and for taking photos with the characters.
Toiletries
Disney Cruise Line provides shampoo, conditioner and soap to all its guests. You will need to bring any additional toiletries, such as deodorant, toothbrushes, toothpaste and hair styling products. Pack sunscreen as well, since you may wish to swim and sunbathe on the deck and at the ports of call.
Storage space is limited in most staterooms other than the suites, so you may also wish to bring a hanging shoe holder. Hang it on the back of your door for added toiletry storage.
Snacks/Beverages
Although there will be plenty of food on board, you may wish to pack snacks and beverages if you have special favorites. Disney will even allow you to bring alcoholic beverages if you pack them in your luggage. However, you will have to pay a corkage fee if you bring your own wine and wish to drink at dinner. Any food and drink brought on board must be in unopened containers, and you may not bring a cooler.
Money
You pay for everything on board a Disney cruise ship using your Key to the World card, which is linked to your on-board account. However, you will need to bring a credit card or cash to pay the account. If you plan to go ashore at the ports of call, you will also need a credit card or cash to pay for purchases. If you are going on a Disney-sponsored shore excursion that is paid for with your Key to the World, you should still bring some cash for gratuities.
Personal Items
Bring personal items such as books to read on the beach, an iPod for listening to music out on deck or anything else that will help you enjoy your cruise. If you will be snorkeling on Castaway Cay, Disney's private island, you can bring your own snorkeling gear rather than needing to rent it. You can also bring your own inflatable raft rather than paying for a rental raft or tube. If you have children, they may enjoy sand toys for the beach.