If you're about to set sail on a cruise, you want to be sure you have everything you need without overpacking. A trip to the Bahamas is exciting with its warm, beautiful beaches and fun shops. Figuring out what to wear is as easy as going to your cruise line's website to see if there are any dress code requirements, packing according to the weather and thinking about comfort.
Dining Attire
Before you start packing, check the cruise line's website for any packing tips or dress codes. Many of the cruise lines require guests to dress more formally in their dining rooms. That usually means no swimwear, shorts, tank tops or jeans. Pack a nice pair of capri or khaki pants with a dress shirt or maybe a sundress. Some travelers may pack more formal attire, but it's really up to the cruise line's dress code and your preference.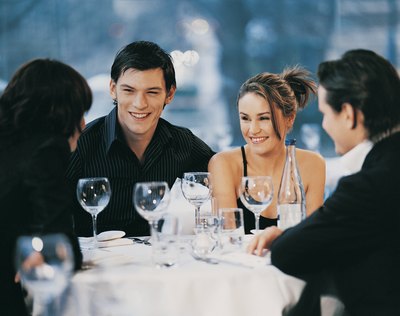 Time of Year
Depending on the time of year, you may want to pack lighter or slightly heavier. Be sure to check the forecast before sailing out. For all seasons, pack swimwear, shorts, sunglasses, sunscreen, a raincoat or poncho and a light coverup. For fall and winter months, pack a sweatshirt, light jacket and long sleeve shirts. When leaving a cold weather port, wear gloves, a coat and maybe a hat, and don't forget you'll be sailing back to that cooler port at the end of the cruise.
Comfort
Be sure to pack comfortable shoes for walking around the shops and going on tours. Wear light clothing while out in the sun and heat. You want to wear something that will keep you as cool as possible, so your clothes won't stick to your skin and make you look like you just came from the gym. During cool evenings you may want to wear something with sleeves to keep you warm.