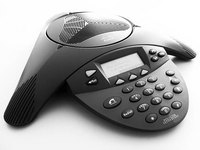 Whether you are sharing ideas with an office mate who telecommutes to work from across town or a client across the country, conference calls can be an efficient way to have a business meeting with several people who are not in the room. Guarantee the success of your next conference call by following proper etiquette.
This Is Just Like Any Other Meeting
Treat a conference call like it was any other meeting. Arrive on time and review the agenda thoroughly beforehand. If you were asked to research any topics or bring any information to the conference call, have it ready. Be prepared to actively participate in the call just as you would if you were having an in-person meeting.
But There Are Some Differences
Introduce yourself before you start speaking, as you will be talking to other participants who cannot see you. You will not be able to look into their faces and read visual feedback clues. Take frequent conversational pauses to allow other participants to give verbal feedback. Do not keep talking for any prolonged time without stopping to let the others express themselves. On the other hand, when other people are talking, try not to talk over them or interrupt them in any way. Avoid going off the topics outlined on the agenda or having side conversations.
Location, Location, Location
The beauty of conference calls is that you can be just about anywhere when you have one. This does not mean that you can hold one in the middle of a monster truck show. Wherever you are, ensure that it is a quiet place with little or no distractions. Barking dogs, screaming children or construction noise can make it hard for the other participants to hear you or each other. If you cannot avoid unnecessary background noise, use the mute button to prevent everyone else from having to hear it.
You should also set up in a comfortable area with everything you need within arm's reach. You do not want to miss an important piece of information or a question that was directed at you. Before the meeting starts, have the agenda, note-taking instruments and something to drink nearby. You may also need your computer or laptop nearby if there are files or programs on it that you may need.
Follow-up After the Conference Call
After a conference call, you may also receive a recap email detailing the notes from the meeting. Go over the information as soon as possible to pick up anything you may have missed. It is also important to follow-up on any unanswered questions or issues. If you were asked to research any topic further, do so as soon as possible and forward that information on to the person who needed it.