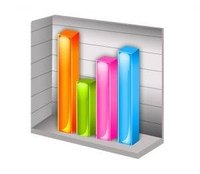 Project presentations serve many purposes. You might schedule a presentation to describe a proposed project's features and benefits to get approval, provide an update on project progress, explain research results, demonstrate functions or explain a change in strategy. Use various multimedia to engage the audience. A presentation typically includes an introduction, statement of purpose, three to five related discussion topics and a summary describing next steps. The message should be clear, concise and persuasive to support your purpose.
Visual Images
Limit the number of words on each page of your presentation. Use appropriate and relevant icons, graphics, symbols, pictures, diagrams and charts to convey your message. Simple visuals are excellent for explaining and reinforcing a concept. Use color consistently. Ask yourself if the visuals will help your audience understand the point. Will it help them remember the meaning? Does it imply that they should act? If not, then consider replacing them with images that have more significance. During your presentation, refer to your visuals to establish the context.
Supporting Data and Experts
Often, your project is so complex that no one person has all the expertise to describe the project details. One way to address this is by providing supporting detail from experts as backup material. Consider co-presenting with experts and other project team members, particularly if their skills and expertise establish credibility and help you achieve your presentation goal. Adopt a question and answer panel format for your presentation or schedule expert speakers in a predefined order, depending on the presentation style appropriate for the audience.
Engaging the Audience
Encourage audience involvement to ensure your message is communicated to achieve the project presentation objective. Ask questions, conduct a short survey or have a contest to motivate participation. Acknowledge audience expertise, but do not stray from the established agenda. Allow complaints without permitting the discussion to derail.
Delivering the Presentation
Project presentations typically answer these questions: Who? What? Where? When? Why? How? Be sure to structure your presentation to get across these messages succinctly. Then, when you deliver it, take care to speak slowly (but enthusiastically), using short sentences and pausing between thoughts to gauge audience comprehension.