A vegetable, fruit and nut diet is basically a paleo vegan diet, as these are the only foods that are allowed in both of these types of diets. Although these foods are all nutritious, this is a very restrictive diet if you don't also include other types of foods, and it is hard to get all your essential nutrients without taking supplements. Speak with a registered dietitian or your doctor to plan a healthy version of this diet customized to your needs.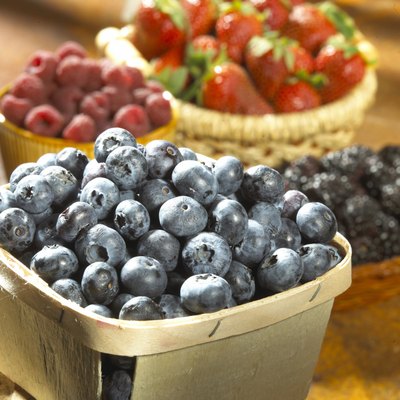 Nutrients Provided
A diet of fruits, vegetables and nuts provides fiber; vitamins A, C and E; and the B vitamins B-6, thiamine, folate and niacin, as well as potassium. Nuts also provide some protein and essential fatty acids. This diet contains small amounts of iron, calcium, phosphorus, zinc and riboflavin. Berries are a particularly nutritious fruit option, as they provide large amounts of fiber and antioxidants. Following a vegan diet means that most of the fat in your diet is likely to come from healthy unsaturated fats instead of the less healthy saturated fat.
Potential Health Benefits
Diets high in fiber from fruits, nuts and vegetables may help improve colon function and lower your cholesterol levels, thus potentially lowering your risk for colon cancer and heart disease, according to a small study published in Metabolism in April 2001. These foods may also lower your risk for some other types of cancer and stroke, at least in part due to the large amount of antioxidants they contain, notes an article published in Perishables Handling Quarterly in May 2001.
Deficiency Risks
Without eating legumes or whole grains, you might not get enough zinc and iron. This diet may also increase your risk of deficiencies in protein, vitamins B-12 and D and essential omega-3 fats, as sources for these are limited on a vegan paleo diet, according to registered dietitian Hope Warshaw in an April 2014 Washington Post article.
Vegans tend to get less than the recommended amount of calcium, which can increase their risk for osteoporosis if they don't get at least 525 milligrams per day, according to an article published in the American Journal of Clinical Nutrition in May 2009.
Limiting Risks
Although nuts and seeds such as almonds, cashews, peanuts and sunflower seeds provide some zinc, if you include grains and legumes in your diet, you'll meet the recommended daily value for zinc more easily.
You may also want to include some grains, such as amaranth, millet, quinoa, sorghum, wild rice, buckwheat and teff, to provide the amino acids missing in the protein you get from legumes. These grains will also help you meet your recommended iron intake, along with dried fruits, legumes, seeds and mushrooms. Eat iron-rich foods with a source of vitamin C to improve iron absorption.
Soy, canola oil, walnuts and flaxseeds will help you get the essential omega-3 fats you need. Soy, broccoli, leafy green vegetables and fortified foods will help you get sufficient calcium. You'll need to take supplements to meet your vitamin B-12 needs.