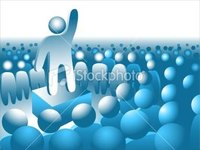 Many people are deathly afraid of public speaking. Remember, however, that your audience is rooting for you to succeed. It wants to be entertained and learn something at the same time. With the right preparation and delivery, you can own the moment and leave everyone wanting more.
Preparation
Before standing in front of a room full of people, practice as much as possible so that you find your groove well ahead of "showtime." Avoid filler words or unnecessary transitions. If you are not at a podium, then you want to stage out your walking pattern and where you will be standing. Record the practice sessions and listen to them. Where possible, gather a couple supportive friends and give them your performance.
Speaking Style
People learn via different styles, so no one perfect way exists to deliver your message. Gauge your audience to know what level of excitement to use.
Your Body and Eyes
Understand the use of body language. Walking around, smiling and hand gestures are all ways of transferring energy. Standing or sitting still is the monotone version of body language.
Connect with your audience through eye contact, which shows confidence and generates audience participation. Use the 2-3 second rule for length on making eye contact. Make this eye contact with individuals as well as the entire audience.
Stories and Humor
Avoid reading too much. Notes are fine, but reading is boring. If you are just going to read, save everyone the time and just give them a handout. The audience can read too.
Give something tangible to the audience. This helps some people follow your message and gives them something to take home. This handout does not need to be delivered at the beginning as sometimes this takes away from the focus on the speaker.
Practice telling good stories. Relate your information with an effective and well-told story. People like stories; they give context.
Use your sense of humor. A well-timed joke will make your presentation far more effective. People like to smile and laugh. Don't do a comedy routine but fit in a couple of humorous moments.
Start strong and finish strong. The audience remembers the first couple of minutes and the last couple.