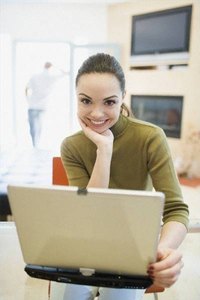 There are countless ways to make money using your home computer. Regardless of whether you are looking to earn extra money or quit your full-time job and work from home, there are opportunities for a person to make anything from a few dollars a week to a few thousand. This article provides details on a few of the more popular techniques used to earn money online from home.
Use Your Professional Skills to Freelance
Utilize your writing, copy editing, programming, researching, graphic design or other professional skills by finding freelance work. Sites such as Elance.com and Guru.com offer the opportunity to bid on hundreds of projects for writers, computer programmers, website designers, researchers and more. You create a profile, search available projects, bid on assignments, and if you are awarded the project, you will receive payment once the assignment is complete. These sites are membership based and require a fee for the opportunity to search for projects.
Create a Blog or a Website
If you have a hobby or interest you would love to share with the world, create a blog or a website. Blogs offer regularly updated commentary on any subject or topic of interest to the blogger. Blogs can feature pictures and videos and offer the opportunity for others to post thoughts in response to your comments. A website provides content that does not have to be updated as frequently as a blog. It offers the chance to use various pages to separate content, and it can be used to sell products.
Utilize Affiliate Marketing
Use affiliate marketing to add commission-based advertising to your blog or website. Every time a visitor to your site clicks on an ad and makes a purchase on that site, you receive a commission. Affiliate marketing is one of the most effective ways to make money on the Internet. Your affiliate ads should be in sync with your blog or website. If you blog about fitness, you might have affiliate ads for vitamin supplements, weight-loss plans and workout clothing. Google AdSense, Clickbank and Commission Junction are just a few of the well-known affiliate sites that can help add a revenue stream to your blog or website.
Sell Items on eBay or Craigslist
Sell items in good condition you no longer want or need. One person's trash is another person's treasure on eBay or Craigslist, as both sites provide the opportunity to have a "virtual garage sale." You can also sell products you create or collect, such as dolls, stamps, coins and countless other items. EBay sellers pay fees while Craigslist users do not. When selling items on eBay, look for similar items to find out what your competition is and what they are selling items for. Be careful to not overestimate or underestimate shipping costs.