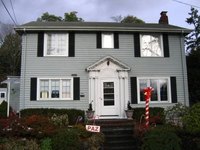 We're living in challenging economic times. If you have a house you want to sell quickly, you must deploy strategic moves to effect a sale as soon as possible.
Staging
One strategy is staging, the process of preparing your home before it goes on the market. Staging aims to make your home as appealing as possible to potential buyers.
Basic staging techniques include eliminating clutter and fixing or replacing any obvious defects or flaws both in the interior and on the exterior of your property. this likely means you will need to put away many personal items you have on display.
In considering the exterior, you need to ensure any landscaping is neat and appealing and that the home's exterior is fresh and unblemished; otherwise, a coat of paint may be required.
In the end, you want a prospective buyer to be able to envision the property as her own. By taking the time to properly stage your residence, you will find your home selling faster--even in a challenging real estate market.
Professional Assistance
Some homeowners think they can save money by taking the "for sale by owner" route. The fact is that in most cases, with the assistance of a real estate professional, homes sell faster. Moreover, most sellers get a better sales price when they use a real estate agent.
Do not underestimate the value of word of mouth either. Talk to your friends, relatives and colleagues. Find out how others have sold their own homes in the past.
Short Sale
If you're facing more significant financial issues, e.g. if the possibility of foreclosure is looming, you need to consider significant steps to ensure a fast house sale. A short sale may be the way to go.
Through a short sale, you negotiate with your current home mortgage lender. You get an agreement in writing from that lender to discount the balance on your outstanding loan. In other words, the lender agrees to lower the amount due and owed on your home mortgage loan.
Some lenders prefer to discount the balance due on your loan rather than work through a foreclosure case. Many lenders find it is cheaper to discount a loan than incur all of the expenses associated with the foreclosure process.
With a discounted mortgage loan, you are in a position to put your home up for sale at a much lower price and thereby are able to snag a qualified, willing buyer in a far shorter period of time.