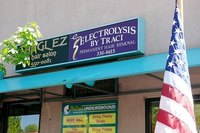 Electrolysis is a popular procedure for the permanent removal of hairs. Used for both cosmetic and therapeutic purposes, electrolysis is a safe procedure causing no long-term side effects. One method of electrolysis is known as the "galvanic method," which removes hair by causing a chemical reaction within the hair follicle. Although you should consult your doctor prior to electrolysis treatments, galvanic electrolysis is a relatively painless operation that has a high rate of success for the permanent removal of hair.
Electrolysis and Hair Removal
Electrolysis causes the permanent removal of unwanted hairs from the human body by sending an electrical charge down through the hair follicle, which is designed to cauterize the hair bulb. Electrolysis can be used for cosmetic purposes, to remove hair that is considered unattractive or for therapeutic purposes, such as the removal of ingrown hairs. Electrolysis procedures utilize special needles that create an electrical charge to disperse to individual hairs.
The Galvanic Method
The galvanic method of electrolysis, or galvanic electrolysis, transmits a direct electrical charge to a hair follicle. Once this charge reaches the hair bulb, the tissue where new hair begins forming, it causes a chemical reaction that releases sodium hydroxide. Sodium hydroxide is known more commonly as lye, a caustic agent that can be harmful to living tissue. Galvanic electrolysis releases a small amount of sodium hydroxide, not enough to be toxic but enough to cauterize the follicle. Galvanic electrolysis is used to remove thick, coarse hairs from the body.
Thermolysis and the Blend Method
Thermolysis is another form of electrolysis used to remove thin, fine hairs from the body. Instead of the direct current used in galvanic electrolysis, thermolysis needles transmit a high-frequency alternating current to individual hairs. This alternating current travels down into the hair bulb, heating the area to a temperature hot enough to cause cauterization. The blend method refers to a combination of both galvanic electrolysis and thermolysis and is normally used when larger areas of hair, including both coarse and fine hairs, are to be removed.
Treatments
Electrolysis procedures will not permanently remove hairs after the first treatment, but they will damage the hair bulb enough to reduce the next follicle's growth significantly. Although there is a slight risk of intense pain, electrolysis is safer for your skin than waxing or depilatories, chemical ointments designed to remove hair above the skin's surface. The course of treatment will vary from patient to patient, as some will need fewer electrolysis procedures to remove hairs permanently. After the first treatment, follow-up treatments should be scheduled every week or every other week until permanent removal has occurred. Before selecting an electrologist, check your state regulations on electrolysis specialists, and ask to see your electrologist's certifications.