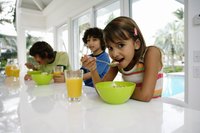 While nutrient needs are slightly different for children than for adults, it's still important that they follow the same basic diet guidelines. That means a diet focused on foods rich in health-promoting nutrients from all of the food groups. If you're concerned about your child's diet, consult with your pediatrician or dietitian.
Balanced Nutrition
While it's not necessary to count calories for children, it's important to balance calorie intake to help promote growth without excessive weight gain. The number of calories your child needs to maintain a healthy weight depends on age, gender and activity. Children ages 4 to 8 need 1,200 calories to 2,000 calories a day, while children ages 9 to 13 need 1,400 calories to 2,600 calories a day.
For good health and balance, the Institute of Medicine recommends children get 45 percent to 65 percent of calories from carbs, 10 percent to 30 percent of calories from protein and 25 percent to 35 percent of calories from fat.
Include All the Groups
Including a variety of foods from all the food groups not only helps ensure that your child meets carb, protein and fat recommendations, but also vitamin and mineral needs. A healthy and balanced diet for children needs to include protein foods such as poultry, lean meat, seafood, beans, nuts and seeds; fruits and vegetables; grains, with at least half from whole grains such as oatmeal or whole-wheat bread; and fat-free or low-fat dairy foods.
You can also help your child balance his diet by limiting less healthy options such as sweets, soda and fast food.
The American Academy of Pediatrics recommends you switch your child to nonfat milk at age 2. New research, however, indicates that full-fat milk after age 2 may aid in weight control, according to a 2013 report on NPR. Talk to your pediatrician about the best milk choice for your child.
Healthy Meal Ideas
Create nutritious, balanced meals for your child by including as many food groups as possible at breakfast, lunch and dinner. For example, a healthy and balanced breakfast might include scrambled eggs with whole-wheat toast, a banana and a cup of fat-free milk. Or you might try a bowl of oatmeal with raisins and chopped almonds made with fat-free milk.
Lean turkey rolled in a whole-wheat tortilla with apple slices, carrot sticks and fat-free yogurt makes a healthy, kid-friendly lunch. Another option might include mixed greens topped with diced chicken, served with strawberries, whole-grain crackers and a cheese stick.
For dinner, whole-wheat spaghetti with turkey meatballs and steamed broccoli makes a healthy meal for the whole family. Veggie burgers with roasted potatoes and carrots might also work for everyone; serve fat-free milk to round out the meal.
Snacks Are Important, Too
Healthy snacks are an important part of a balanced meal plan for children. They not only help your child meet nutritional needs, but prevent crankiness and overeating. Keep snack sizes small so they don't ruin your child's appetite for meals. Good options include fresh fruit, cut-up veggies, cheese and whole-wheat crackers, fat-free yogurt or a handful of nuts.