Polycystic Ovary Syndrome (PCOS) is a hormone imbalance that is common in women. PCOS affects up to one in 10 women in the United States. Symptoms include irregular menstrual periods and excess body hair. It is thought that insulin plays a role in PCOS. Excess insulin can stimulate overproduction of testosterone, which causes PCOS symptoms. Controlling insulin through your diet may help alleviate the symptoms of PCOS.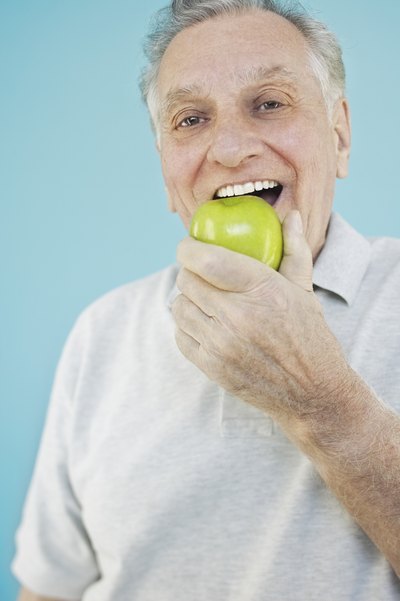 Carbohydrates
Choose carbohydrates that are close to their natural state and are high in fiber and low in sugar. Avoid or limit carbohydrates that have been refined. Complex carbohydrates take longer for your body to digest so the sugars are released slowly, which prevents a spike in insulin. Choose fresh fruit instead of fruit juice or sweetened canned fruit. Eat non-starchy vegetables like spinach and carrots in place of starchy varieties like corn and potatoes. Add whole grains to your diet in the form of whole wheat bread, brown rice, oats and barley, while eliminating foods made with white flour. Choose a cereal that has five or more grams of fiber in each serving; avoid sugary cereal and donuts. Drink water, sugar-free tea and diet soda. Snack on yogurt, Popsicles and gelatin. Avoid snacks that have a lot of sugar and carbohydrates like candy and cookies.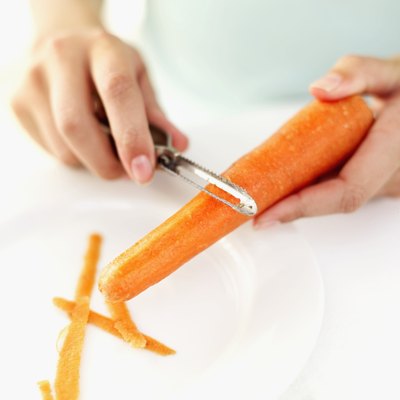 Fiber
Try to eat at least 25 grams of fiber every day. Work up to that amount slowly to avoid upsetting your stomach. Add legumes like black eyed peas, chickpeas, lentils and lima beans to your diet. Eat them in casseroles, soups and as sandwich fillings. Choose vegetables that are high in fiber like turnips, parsley, cabbage, broccoli, spinach and cucumbers. Snack on whole fruit like raspberries, apples, cherries, grapefruit, peaches and strawberries. These are also great ingredients for smoothies.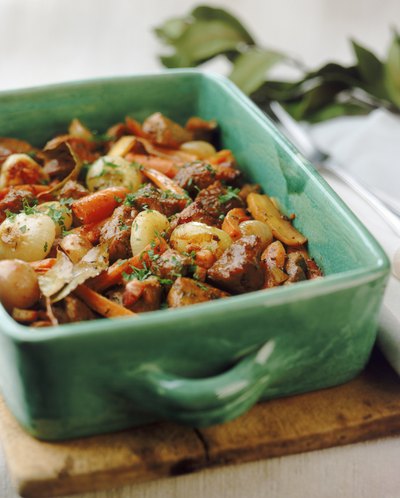 Fat
Decrease the amount of saturated fat in your diet. Choose fat-free or low-fat milk and cheese. Buy lean meat and remove visible fat before cooking. Select olive oil for cooking and to use as a dressing. Get more monounsaturated and polyunsaturated fats from nuts and seeds like walnuts, almonds, flax seeds and pumpkin seeds. Avoid frying your food. Bake, steam, grill or broil instead.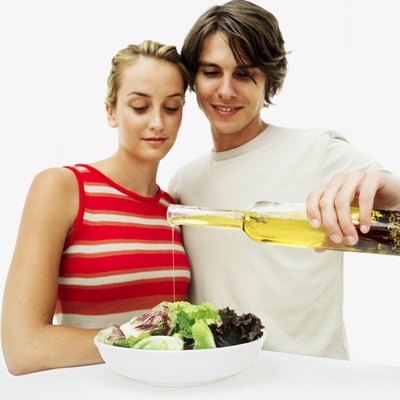 Meals
Include fat and protein with each meal and snack in order to slow down the release of sugar from the carbohydrates you consume. Eat small meals frequently during the day rather than three big meals so your blood sugar remains under control. When you get hungry, eat a snack like meat or vegetables that won't affect your blood sugar and insulin levels very much. Minimize the consumption of processed foods and salt. Limit your portion size so you do not overstimulate the secretion of insulin. Eating less may also help you lose weight, which will further lessen your symptoms of PCOS.