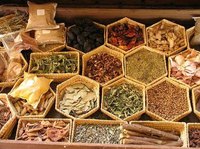 Typically caused by moisture and skin irritation, yeast rashes can be both annoying and painful. While mild rashes tend to dissipate with loose-fitting clothing and some fresh air, occasionally these rashes can last for longer periods and may require a home remedy to encourage healing.
Comfrey-Calendula Cream
If the rash is inflamed, raised, cracked or bleeding, the initial response should be to soothe it and reduce the swelling. Natural creams containing herbs such as comfrey, calendula and plantain are the most effective in this regard. When selecting a cream, purity is important. Avoid creams that contain alcohol, parabens, preservatives or artificial scents, as all of these may only make the rash worse. The general rule of thumb for herbal creams is "the greener the better." So if a cream does not have a very green color, it does not contain a high concentration of herbs and therefore will not effectively heal. Consider choosing brands such as Blissful Babies or Burt's Bees, as they contain high-quality, organic ingredients with no added chemicals.
Candida Diet
If a rash does not heal within a week of applying a topical cream, it is most likely due to an excessive amount of candida within the body. To restore the natural balance and improve the body's ability to heal the rash, consider commencing a candida diet for at least one month. Candida is a naturally occurring fungus in the body, and is essential for effective digestion; however, when consuming too many unhealthy and processed foods, candida begins to multiply and eventually moves into the bloodstream. By eliminating all processed sugar, white flour and processed food from one's diet, it forces the candida population to decrease and along with it, any damage caused. This is also effective in clearing up reoccurring vaginal infections, thrush and overall fatigue.
Acidophilus
Another type of bacteria found in the intestine, acidophilus, can be used both topically and orally to eliminate yeast. When applying topically, consider mixing directly into a small amount of the comfrey-calendula cream and spreading directly onto the rash. Repeat this process until the rash is completely healed. For internal use, unsweetened yogurt, cultured juices, and supplements are all effective. When choosing a supplement, purchase from the refrigerated section at a local health food store for the freshest possible culture.
Tea Tree Oil
Melaleuca, or tea tree oil, is a known naturally occurring antifungal. This means that it directly kills candida overgrowth at the source. Tea tree oil can be found at any local health food store such as Sprouts or Whole Foods. If treating a rash that is cracked or bleeding, consider first utilizing a comfrey-calendula cream such as Blissful Babies Soothing Cream to heal the cracks before applying tea tree oil, as it is very potent and can be irritating. When applying the oil, always dilute it with either water or a carrier oil such as almond or olive oil. If already using a comfrey-calendula cream, simply add two drops of tea tree oil to a tablespoon of the cream. Tea tree oil is also antibacterial, so any cream that is not used immediately can be stored for a later use.