Running is one of the most efficient ways to burn fat and calories. Lose weight by starting a regular treadmill or outdoor running routine. The average 125-pound woman burns more than 21 calories per mile running at a 12-minutes-per-mile pace. The faster the pace, the more calories you burn. Steady runs mixed with interval training, up to six days a week, will encourage the pounds to fall.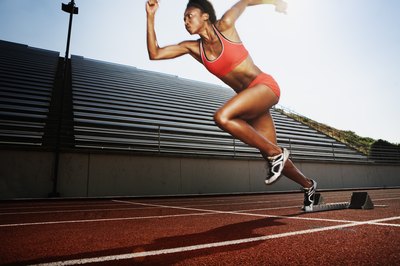 Begining Runner
If this is your introduction to running, start with an easy, 14-minutes-per-mile pace for up to two miles per day, five days a week. Two miles at that pace should take no longer than 30 minutes. Keep your run steady and be sure to breath through your mouth to allow for maximum oxygen intake.
Complete two-mile runs for two to three weeks until you can run at a comfortable pace and carry on a conversation.
Once you've mastered the 14-minute mile, kick up the pace and strive for 12 minutes, still running two miles per day. Your goal is to increase your time to burn more calories.
Gradually increase your pace until you can run a mile in 9 minutes for two miles. At this point, it's time to increase your mileage and attempt to add one or two miles to your routine so you're running up to four miles a day, five days a week at approximately 9 minutes per mile. This process could take several weeks to several months, depending on your current fitness level and time you have to devote to running.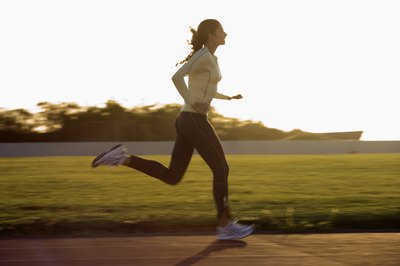 Advanced Runner
Advanced runners sometimes find losing weight difficult. Your body is used to a faster pace and a longer run, but you can lose weight almost the same way as a beginner.
If you run six days a week, alternate your days between steady, long-paced and short, fast-paced runs. For example, if you typically run 10-minute miles, five miles per day, try running your usual routine one day, then the next day run two miles and aim for 8 1/2-minute miles.
Running at a fast pace every other day will enhance your slower and longer days. It will also boost your metabolism and train your muscles to run faster. The goal is to eventually cover your five-mile run at a faster pace but work through the slower day and faster day for several weeks until your slower days seem too slow.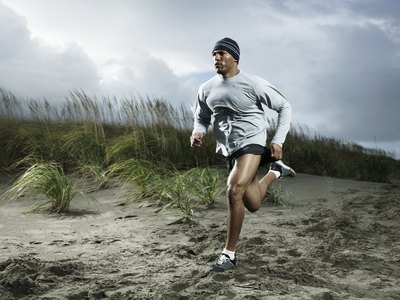 Interval Training and Eat for Weight Loss
Keep your body guessing by implementing interval training into your daily routine. Inject short bursts of energy during your steady runs to rev up your metabolism. Try running one minute as fast as you can, then slow down to your regular steady pace for three minutes. Pump up the pace again for another minute, then go to the steady pace for three more minutes. Try this routine as often as possible during your run to melt the fat away.
Because you are running hard, you are probably going to be hungrier than ever. Resist the temptation to eat more--this will sabotage your weight loss efforts. Running is simple math of calories in, calories out during your run. Eat smaller portions of healthy, clean food such as vegetables, fruit, lean meats, nuts and low-fat dairy. Hydrate often and listen to your body to ensure injuries and muscle strains don't go unnoticed.