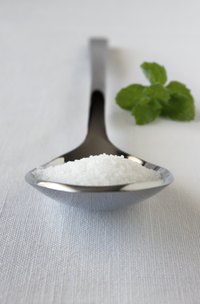 Sugar substitutes can be caloric or noncaloric. Calorie-free sugar substitutes don't affect blood sugar levels, making them a preferred choice of some diabetics. Most of these sugar substitutes, however, are artificial. Some of the natural but calorie-containing sugar substitutes have less of an effect on your blood sugar levels than sugar, making them potential natural alternatives for those wanting to limit artificial foods in their diet.
Stevia Sweeteners
Stevia-based sweeteners are made from a substance found in the stevia plant, known as rebaudioside A or Reb A, making them one of the few calorie-free sugar substitutes that make a "natural" claim. These sweeteners are highly processed, however, so not everyone agrees that they are "natural" sweeteners. Stevia-based sugar substitutes have no calories and no effect on blood sugar levels. Examples include Truvia, PureVia, Stevia in the Raw, SweetLeaf and Rebiana. One drawback to using stevia-based sweeteners instead of sugar is that they have a bitter aftertaste reminiscent of licorice.
Sugar Alcohols
Sugar alcohols have fewer calories and carbohydrates than sugar and less of an effect on blood sugar levels because your body doesn't absorb them completely. Examples include erythritol, which has no calories, and xylitol, which has 9 calories per teaspoon -- compared to 16 in sugar -- as well as sorbitol, maltitol, lactitol, mannitol and glucitol. The main drawback to sugar alcohols is their potential gastrointestinal side effects, including diarrhea and gas, if you consume them in large amounts.
Agave Nectar
Agave nectar actually has more calories than sugar, with 60 calories per tablespoon, but it has a glycemic index of just 13, meaning it won't cause your blood sugar levels to spike too much. A glycemic index of 55 or less is considered low. An animal study published in the Journal of Medicinal Food in September 2014 found that mice given agave nectar instead of sugar gained less weight and had lower blood sugar levels than those given sugar.
Agave nectar is sweeter than sugar, so you can often use up to one-third less than sugar to help limit calories. When baking, make sure to decrease liquids in the recipe by one-fourth to compensate for agave being a liquid sweetener, recommends the Eating Well magazine website.
Some agave is contaminated with high levels of pesticide residues, so look for brands that are certified organic to minimize this risk.
Honey and Maple Syrup
Honey has 64 calories per tablespoon, compared to 45 in sugar, but less of an effect on blood sugar levels than sugar. It has a glycemic index of 61, which is slightly less than sugar, with a glycemic index of 65. A classic study published in the Journal of Manipulative and Physiological Therapeutics found that honey produced smaller increases in blood sugar than table sugar and was less likely to cause glucose intolerance.
Honey also contains some beneficial antioxidants. Because honey is sweeter than sugar, you can use less, thereby cutting a few calories.
Maple syrup has a lower glycemic index than either sugar or honey, with a score of 54, making it a low-glycemic-index food. It's also lower than calories than honey, with 52 per tablespoon.