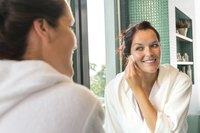 Have you ever wondered how the food you eat might affect your skin? As it turns out, vitamins A, C, D, E and K may be essential in recovering from an acne breakout or healing from a cut or wound. Some of these nutrients are helpful not only in your diet, but also as a topical treatment, so discuss your best mode of treatment with a doctor or dermatologist.
Vitamin A
Vitamin A in its synthetic form, retinoids, has long been used as a topical treatment for acne, psoriasis and other skin disorders or aging. Further, a deficiency in vitamin A status has been linked to impaired wound healing and synthesis of collagen, which is a protein used to make your skin and maintain its health. So the link between skin healing and vitamin A is pretty clear. To consume vitamin A through food, choose leafy green, orange and yellow vegetables; tomato products; a variety of fruits; fortified dairy products and fortified cereals; liver; fish; and some vegetable oils.
Vitamin C
Vitamin C also aids in healing wounds, forming scar tissue and synthesizing collagen, as well as preventing infection. Vitamin C also acts as an antioxidant, preventing further damage from free radicals that can harm your skin and contribute to aging. Because your body cannot make or store vitamin C, it is essential to consistently consume rich sources of this nutrient like citrus fruits, kiwi, berries, mangoes, papaya, bell peppers, broccoli, tomatoes and dark leafy greens.
Vitamin D
When your skin is wounded, your immune system calls for more vitamin D to fight infection and start repairing your skin. Vitamin D also helps regulate production of new skin cells, protects against ultraviolet light skin damage and regulates inflammation. This nutrient is made in your body when your skin is exposed to sunlight, but you can also consume vitamin D through fortified items like milk, orange juice, soy products and cereals, as well as egg yolks and fatty fish like salmon, mackerel and tuna.
Vitamin E
Vitamin E is another antioxidant protecting your skin against free radical damage that ages and interferes with the healing of your skin. However, there is little evidence to support claims that it can decrease scarring or improve wound healing; more research is required to be sure of these benefits. Still, vitamin E is essential to overall health and skin integrity. It can be consumed through wheat germ oil, sunflower and safflower oil, sunflower seeds, almonds and hazelnuts.
Vitamin K
While studies on vitamin K's effects on skin are rather limited, it is still used to speed skin healing and reduce bruising or swelling related to surgery, as well as to treat rosacea and remove scars or stretch marks. More research is still needed in this area, but consuming the vitamin K you need is as simple as consuming more broccoli, soybeans and dark green leafy vegetables.