When you're looking to cut carbs, veggies are your best bet. High in fiber and flavor, low in carbs and fat, vegetables are also a natural way to improve your health while watching your carbohydrate intake.
Want to get the most out of your low-carb veggies? With a little knowledge and ingenuity, you can eat low-carb and have a tasty, varied diet too. Here's how: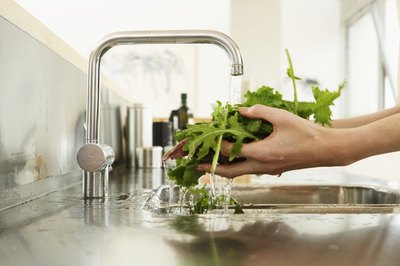 Check the fiber
You may already know that you can subtract the fiber from your food's carbohydrate count. Unless you are sensitive to fiber, your body doesn't process it; if your food has more than 5 grams of fiber per serving, subtract the entire fiber content from the number of carbohydrates to find out what you're really getting.
For example, if your food has 28 grams of carbohydrates and 6 grams of fiber per serving, you're only processing 22 fiber grams.
Vegetables are famously high in fiber and low in carbs -- as long as you choose wisely. Avocado (technically a fruit) is your best choice, with 17 grams of carbs and 11 grams of fiber. Also try artichokes, beans, broccoli and leafy greens.
Get creative
When you're trying to lose weight, your options can sometimes seem limited. But lifetime veggie lovers know there are tons of interesting flavors in the vegetable realm.
For example, miner's lettuce (Claytonia perfoliata), pictured here, is a native green in Western states. It's got more flavor than lettuce, and more nutrition -- plus, it dresses up any salad.
Take your next chance to go to a farmer's market and talk to the growers about their crops. Ask them what tastes best, what's in season, and how they prepare it. You might pick up some new favorite foods and recipes.
Try roasting your veggies with plenty of spices, making veggie kabobs, chopping up a slaw-style salad and mixing new flavors.
Low-carb veggie list
Here's a general list of vegetables that are low-carbohydrate (all the veggies listed have 10 net carbs or less) and high in fiber: Artichoke Arugula Asparagus Avocado Bell Peppers Bok Choy Broccoli/Broccoli Rabe Cabbage Cauliflower Celery Chard Corn Cucumber Daikon Edamame Eggplant Endive Fennel Green Beans Hearts of Palm Jicama Kale Lettuce Mushrooms (most varieties) Okra Onion Peas (Green, Snow, Sugar Snap) Pumpkin Radicchio Radishes Rhubarb Spinach Squash (some varieties) Tomatoes Turnips Zucchini