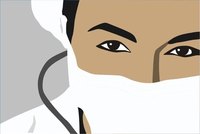 STDs, or sexually transmitted diseases, are infections that can be passed by having sexual intercourse with another person who has the infection. The most common STDs that can be passed are chlamydia, herpes simplex, gonorrhea, HIV, trichomoniasis, HPV and syphilis. It is important that, if you are sexually active, you get regularly tested for sexually transmitted diseases.
At the Doctor's Office
You can be tested for sexually transmitted diseases at your general practitioner's office or, if you are a woman, at your gynecologist's office. If you are a woman, you will be given an internal pap smear, which will determine whether or not you have HPV. For other STDs, your doctor will most likely offer a blood test, where a vial of blood is drawn from your arm and sent to a laboratory for testing. If you are uncomfortable with this testing method, you can request a urine test or a cell test, which some doctors' offices also offer. If your doctor does not offer these methods, he or she will recommend you to clinics or doctors who do. Your doctor will most likely instruct you to call for the results of your test within two weeks of getting tested, and you will be given your results by a nurse or the doctor.
At the Clinic
If you do not have the money to go to the doctor or are uninsured, clinics such as Planned Parenthood offer low-cost STD tests for both adults and teens under 18. The test will still be given by a trained doctor or nurse, and will offer a blood test, a saliva test or a cell test for all sexually transmitted diseases. The test will then be sent to a laboratory and you will be instructed to call the office when the test is complete. If you are unable to pay, tell the clinic and it may be able to give you the test on a low-cost or free basis. Many clinics also offer walk-in HIV and AIDS testing on certain days.
At Home
If money is not an object and you would prefer to have anonymity, you can purchase at-home STD tests both online and at your local drugstore. These tests tend to be more expensive than if you were to go to the doctor or a clinic. Usually the test will instruct you to prick your finger, urinate into a cup, or scrape your cheek, and then send the sample into a laboratory by mail. You will be instructed to call the lab to get the results of your test, and you are usually identified by number rather than name.