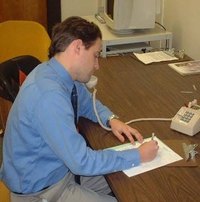 Consumer research is important for understanding customer preferences as well as predicting future buying behavior. There are a lot of different consumer research techniques that can be used to acquire valuable data. The approach to studies will vary, depending on the information that is needed.
Types Of Consumer Research
Consumer research can be qualitative or quantitative. Qualitative research includes focus groups, one-on-one discussions or interviews and taste tests. Quantitative research is conducted on a broader scale to predict the potential success of a product concept or idea. The sample size for qualitative research is relatively small and, therefore, cannot be projected across the general population.
All consumer research begins with the development of a questionnaire. Developing the questionnaire should involve all pertinent departments. Agencies often do the actual research. The way data are collected is called the methodology. This can include surveys by telephone, personal interview or through the mail. Data are later collected and analyzed for strategic purposes.
Consumer Research Project Ideas
One of the most important issues for a company is customer service. Thus, one potential research project is to get the consumer's input on the company's customer service department. First, a random sample would need to be polled from a database, of perhaps customers who have called the customer service department for various reasons. A good sample size would be about 300. The next step is to develop a questionnaire. Questions could center around the reason for the call and whether the problem was resolved. Other questions should prompt customers to rate certain attributes on a scale. The attributes might include such things as timeliness in resolving the issue and professionalism of the company's representative. Allow the customer to suggest recommendations for improvement as well. Finally, ask the customers how likely they are to purchase products from the company again, giving them the choices, very likely, somewhat likely, neither, somewhat unlikely and very unlikely.
Product satisfaction research is a way to gather feedback on certain products. The sample would be random. For a food item, questions could center around taste, availability and likelihood of repeat purchase. The respondent also might be asked to to compare the product to comparable competitive brands. Some important measurements also include brand and advertising awareness for all companies.
Consumer termination studies are popular with high-tech firms. A company that sells software may want to know why some customers have stopped using a product. These data can later be used to make changes in a product or the pricing.
Focus groups are used to gather opinions about a new concept. A trained moderator might conduct these sessions. Participants can be a combination of existing customers and non-customers. Different demographic groups can be selected as well. The company's target market dictates which demographics are most important for a focus group.
One-on-ones can run through moderators to watch customers use new product concepts. Customers can be selected through random sampling. Software firms like to run beta tests to determine how easily a consumer can navigate through a certain product. They can make changes as needed.
Consumer Research Costs
One of the disadvantages of consumer research is that it is very expensive. Small companies might not have the capital to sustain such high costs. Less expensive options may be having company personnel conduct the research. The downside to this approach is potential bias and skewed results. Despite the high costs, consumer research is valuable to an organization.