A front yard may look bare without some sort of tree anchoring the landscape and complementing the house; however, not every tree is an ideal specimen for a front landscape. You may want a tall shade tree or a small accent tree near the corner of your home, or you may be looking for an ornamental tree that will draw attention to your landscape. Avoid planting trees that will grow into overhead or below-ground utility lines, break from high wind or produce hazardous litter over sidewalks or driveways.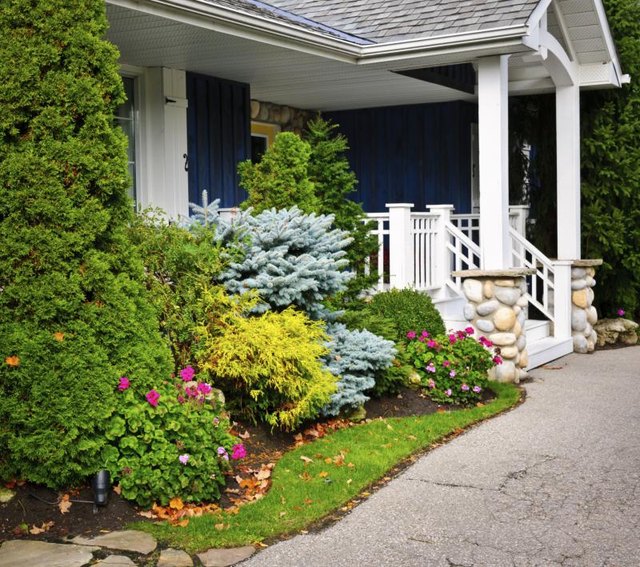 (Elenathewise/iStock/Getty Images)
A shade tree is one that grows tall enough to cast shade on a home or large area. In the front yard, a shade tree can help lower utility costs and conserve energy by blocking summer sunlight or cool winds.
In a large yard where a shade tree's broad crown won't look out of place, the "Shademaster" thornless honeylocust (Gleditsia triacanthos var. inermis "Shademaster") is an option. It provides texture with its tiny leaflets on its long, compound leaves. This tree is hardy in U.S. Department of Agriculture plant hardiness zones 5 through 8a. It has a mature height of 50 to 70 feet and a crown that can spread up to 50 feet. Also, it is suitable near sidewalks.
If you want a shade tree that may be more uncommon within your neighborhood, then consider the bald-cypress (Taxodium distichum), particularly if you have a large, consistently moist or even wet yard. This southern native is hardy in USDA zones 5 through 10 and may grow 130 feet tall, although 50 to 70 feet is more common in landscapes. When young, bald cypress has a strong pyramidal shape that gently flattens and rounds over time. It is a needle-bearing conifer yet deciduous, loosing its needles for winter.
Several trees that are options for a front yard display flowers in spring. They include the eastern redbud (Cercis canadensis) and the downy serviceberry (Amelanchier arborea).
The eastern redbud, hardy in USDA zones 4b through 9a, produces purplish-red to pinkish-purple blooms along its branches in early spring. Its flowers offer bursts of color before many other plants, and the flowers are followed by large, heart-shaped leaves. This U.S. native tree typically becomes 20 to 30 feet tall with a crown spread of 15 to 25 feet. It often grows multiple trunks but can be trained to be a single-trunk specimen. Eastern redbud can grow near sidewalks and homes with little root interference.
Another native, early spring-flowering tree, the downy serviceberry is a showy specimen that can complement a home while drawing attention. Its downy-white blooms are fragrant, and its dark-purplish berries, which appear in early summer, can be used in jams, jellies and baked goods. This tree is native to eastern North America and hardy in USDA zones 4 through 9.
If you have always thought of having your own fruit trees, then your front yard may be the perfect place for a couple of them. Several fruit-bearing trees stay on the small side, making them ideal for even suburban yards. Fruit-bearing trees often have delicate blooms prior to fruit production.
Check with your homeowner's association or area government prior to planting them, however, and avoid placing them near sidewalks or driveways because their dropping fruit may become a hazard. Another consideration is that many fruit trees require cross-pollination, which means they need another variety of the same type of fruit tree nearby in order to produce fruit.
Many stone-fruit trees pollinate themselves, but most apple (Malus domestica) and pear (Pyrus spp.) trees require another variety of the same fruit tree for pollination. Apple trees are hardy in USDA zones 3 through 8 and pears in USDA zones 3 through 10.
Sometimes trees are used to highlight certain features of a home. For example, the soft-looking, dense texture and strong conical shape of a dwarf Alberta spruce (Picea glauca "Conica") make it an effective tree to soften a home's hard corners. Dwarf Alberta spruce is hardy in USDA zones 2 through 6 and grows slowly to roughly 12 feet tall with a 5-foot spread at its base.
The entryway is an ideal place for a specimen tree, which will draw attention toward the front door. One choice is Japanese maple (Acer palmatum varieties). This slightly weeping, spreading tree often has star-shaped leaves with brilliant color throughout the year. It may grow 30 feet tall, but most plant nursery varieties of Japanese maple rarely exceed 10 feet in height. Most varieties thrive in USDA zones 6 through 8, although some can handle cooler climates. Japanese maple is not particularly tolerant of wind or large amounts of hot sun exposure; a protected corner or cove that is near the front door and gets partial morning sunlight is most suitable for this showy tree.
Promoted By Zergnet