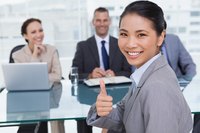 Making a good first impression is etiquette 101, but it is especially important in a job interview. Your head-to-toe look is the first thing a potential boss will use to form an impression, so every aspect counts. A good hair style will frame your face, and can add to or take away from your perceived professionalism. Proper grooming, a flattering cut and color and sleek styling will ensure your hair helps put you in the running for the job you want.
The Basics
First, take stock of the condition of your hair as you prepare for an interview. If you have not had a haircut in months or you have very visible roots from a lapse in coloring, head to the salon. Let the stylist help you find a flattering cut and color as the foundation for any styling. On the day of your interview, make sure your hair is clean. Treat any frizz with a light styling cream or hair oil to avoid distracting flyaways. The overall impression you want to give is that you are neat and organized -- and your hair is part of that.
Short Hair
Instead of gel that can harden and look fake, try a pomade after brushing to smooth rogue hairs and ensure your style stays in place. Men look professional with hair slicked-back or parted to the side. Ladies should blow-dry with a round brush to bring volume and body to bob haircuts. Afterwards, spritz firm-hold hairspray on your brush and give hair a once-over to smooth any remaining frizz. Guys with longer hair on top or ladies with short pixie cuts should not spike or muss hair. It is too casual for any interview regardless of how relaxed the office may be; plus, it can be distracting.
Long Hair
If you're a guy with hair longer than your ears, don't wear it down for an interview. Make sure it is slicked back and the ends are close to the neck, or try a low pony tail. The sleek pony tail also works for ladies with long hair, since it always looks professional. Add polish to your pony by wrapping a slim chunk of hair around the elastic to cover it. Or use a small barrette to secure the top half of your hair up. Only wear hair completely down if you can resist fussing with it.
Facial Hair
Facial hair styling is just as vital to the success of your interview as the hair atop your head. These days, short and sculpted beards are acceptable, especially in a less traditional office setting. However, don't just go in with a scruffy face and neck. Shave right before your interview so you look as polished as possible. Trim sideburns as well as any mustache, beard or goatee to keep the look clean. If you're even the slightest bit unsure, opt for a clean shave. It's worth it to make a good first impression, and then figure out the specific office etiquette once you get a job offer.