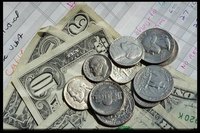 Making easy money can be done using several methods. With the continued downturn in the economy, more people than ever are searching for legitimate ways to make extra money. Some may be lucky enough to stumble upon something they can later turn into a career. The key is to search around for ideas, talk to other people and not fall for any scams.
Setting Goals
People who want to make extra money obviously need it for some reason. Perhaps they want to buy a computer or need the money for tuition. Maybe they want to earn extra money on a regular basis to help support their household. Whatever the case, those who want extra money have to decide how much they need, and whether or not they want to continue with their endeavor.
Longer-term ventures require more of a commitment. For example, someone who wants to teach dancing or piano a few nights a week will disappoint their students if she stops instructing them three months later. There are greater consequences involved. Someone might have been rehearsing for a recital and lose the opportunity. And a parent would have to find a new instructor. However, someone who cuts lawns would be easier to replace.
One other consideration is that people tend to gravitate toward classified ads' "Easy Money" schemes. This is even more of a concern with all of the opportunities promoted online. You can make quick cash, but it takes a little ingenuity and ambition. Most people are better off doing something related to a hobby or interest, or something that fits their personality.
Real Ways To Make Easy Money
One of the quickest ways to make extra cash is to have a garage sale. Everyone has items they no longer need. Garage sales can bring in a lot of extra cash, especially if someone has a lot of available items. Even old electronics or computers can be sold at a garage sale. Placing ads in the newspaper will generate more customers. Also, post signs on telephone poles and at grocery stores.
Taking jewelry or gold to a pawn shop is another way to make extra cash. The value of gold is up right now. People may have old class rings they no longer wear that can be hocked for cash. There are also companies that run "Cash For Gold" ads on TV. Some of them are legitimate, but be careful. The legitimate ones usually offer more money for gold than pawn shops.
Start babysitting for the neighbors. Spread the word. Babysitting can generate up to $10 an hour.
If you like pets, you can offer to walk dogs for extra money. People are busy today. Most couples work and have very little free time. As with any potential opportunity, be creative and start thinking where there might be a need for certain services. In addition to walking dogs, add pet-sitting and grooming. However, do not take on too much unless a full-time business is the ultimate goal.
Sell items on eBay and Yahoo. It is not hard to learn how to sell products online. A person may have a bunch of collectibles that can be sold for quick cash.
Paper recycling is big today. There are recycling centers that pay cash for newspapers and other paper items. Put up some fliers around the neighborhood and let people know when their papers will be picked up. It is recommended that a box be delivered to each person's house in which to put the papers. It adds credibility. Mark every box as "Recycled Paper." It will help serve as a reminder to people as well. Bottles and cans can also be exchanged for cash.
Classified ads are another way to make easy money. People buy sporting equipment, computers, furniture and many other items from the paper every day. Larger newspaper ads will cost more than some of the "Penny Saver" papers. One does not have to limit products to those they have on hand. You can purchase items at a low cost and sell at a higher price. Buy products at Sam's or other wholesale stores and sell them through classifieds. Be sure to advertise them as being brand new.
Tutoring and private instruction are some other ideas. Teachers or people with degrees often tutor students. Martial artists can teach karate or self defense in their house one night per week. Dancers, piano players, writers and many other talented people offer their services in this way.
Other ways to make easy money include window washing, house and carpet cleaning, lawn service, plant care, writing for profit and flea markets.
Consider Going Into Business
Most people would love to have the opportunity to start their own business. The unemployment rate is high, and people are having to work extra hard at their job. It is not unusual for a short-term money-making venture to turn into a full-time business. However, the decision is strictly up to the individual. The longer a venture proves profitable, the greater the chance for success. Thus, it would be wise to go into business if there is a high demand for the product or service. However, the most frightening decision of all is when to quit the day job.
Many of the aforementioned money makers have potential to become full-time businesses. People need cleaning done. Offices and retail stores need their windows washed. And many pet owners need a reliable person to care for their pet. There are also companies out there such as SMC that offer products at low wholesale prices. These can easily be sold at flea markets. Most businesses will require a business license.