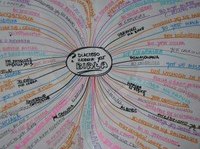 A mind map is a picture used to show concepts arranged around a central idea. Use mind maps as documentation techniques in order to visualize the structure of a topic. A pictorial view allows you to summarize and consolidate complex information. Groups find the use of mind maps helpful in planning dependencies, organizing complex events, problem solving and generally making decisions. Mind maps can be created on paper, whiteboards or with specialized software.
Why Use Mind Mapping
Drawing pictures helps you avoid linear thinking (which is not how your mind functions) that can be quite limiting. This technique helps you think more creatively so you can see relationships intuitively. Use mind mapping as a note taking strategy in academic and business environments as well as for personal productivity.
What You Do
Start with an idea and draw it in the middle of a page. Then, write down words that relate to that idea. Next, make connections between the words and your original idea. These branches can help you view the possibilities without the restrictions imposed by a list or outline structure.
For example, you can draw people's names in an organization and make connections relative to particular topics to understand the flow of communication. This can uncover bottlenecks.
Or, use mind mapping to help you get more personally organized, for example, in planning a trip. You might put the phrase "Trip to Cape Cod" in the center of your paper. Then you might write down all the ideas you have in your mind associated with that, such as "Stop mail and newspapers," "Make inn reservations" and "Buy new bathing suit." Connecting those tasks and grouping them can provide you with an appropriate plan of action.
Impact on Learning and Memory
You may find the resulting visual a useful index to a document, training materials or a research information repository. You may reveal relationships and dependencies previously hidden. This unstructured approach is proven to show structures that make sense, because it allows for associations based on connections of ideas consistent with the way your creative mind works, not necessarily in the order you may have been presented tasks. It may even trigger thoughts you had ignored or dismissed.
So, for example, in planning your trip, you may see that you can group your ideas into "before", "during," and "after" areas (and color code them) which may cause to recognize something important you may have forgotten such as "Make kennel reservations for dog." This technique encourages you to use your imagination and creativity to the fullest, which enhances your ability to learn from your output as well as recall it later. For you, this technique may perhaps be even more successful in helping your remember details than mnemonics!