A luau needn't be expensive to be fun. Set the mood for an evening of enchantment with decorations that will leave plenty of money in the budget for the feast and cocktails. Some of the most important elements in decorating for a luau include lighting and Hawaiian props, most of which you can make at home.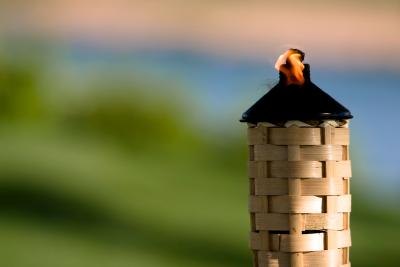 (revertphoto/iStock/Getty Images)
Tiki torches blaze after sunset in Hawaii at a commercial luau, backyard luau, along the garden pathways of resorts, and on Waikiki beach. Nothing sets the scene for a Hawaiian luau like tiki torches, and fortunately these are sold in the summer at many home and garden stores, as well as online discount stores. Lighting depicts the romance of Hawaii and its volcanic origins, and it can also help keep guests comfortable at an outdoors luau. Cheap citronella candles in colorful glass vessels with plastic netting are tropical looking and repel insects. String inexpensive, tiny white outdoor fairy lights on surrounding trees; for more drama, use colored lights. Tape red cellophane over a flashlight lens and aim it at one of your centerpieces, such as a volcano cake, to create a table focal point. Or use other colors of cellophane and strategically place flashlights so they shine on various elements, such as a backyard waterfall and pond or a tiki bar.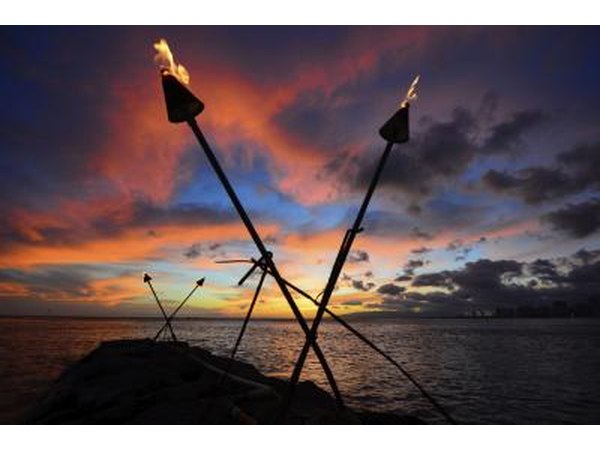 bobtema/iStock/Getty Images
Help guests get into the mood by decorating with vintage Hawaiian album covers mined from thrift shops or music stores. Look for oldies that your guests will recognize, such as Don Ho. Make posters to hang on the walls. Look for stencils to help you draw Hawaiian scenes of palm trees, volcanoes, waves, hibiscus -- yellow hibiscus is the state flower. In addition, find other images that fit your theme, such as tiki, beach, Lilo and Stitch, 1960s vintage Hawaii, romantic Hawaii or Elvis in Hawaii.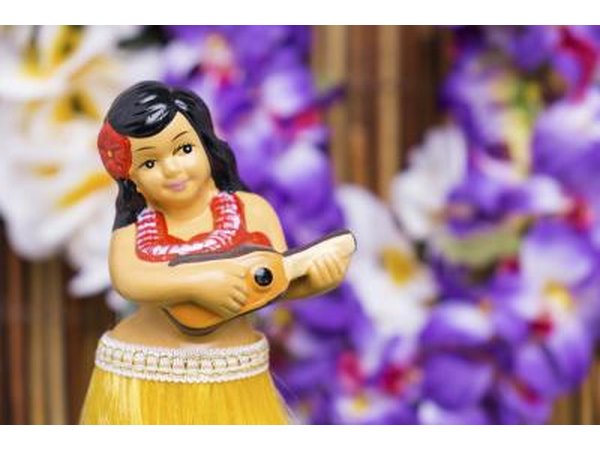 CrackerClips/iStock/Getty Images
For an inexpensive alternative to real flowers, purchase faux leis from a discount store for your guests to wear. Print free coloring pages of Hawaiian flowers and make a family project of coloring them for wall displays. Hibiscus of any color, especially yellow and red, is associated with Hawaii, as are creamy white and yellow plumeria, pink plumeria, bird of paradise, red ginger and torch ginger. Ferns grow profusely in Hawaii, so you may want to spring for a fern or two from a local nursery to be used later as a houseplant or in your garden. Clip pieces of the fern to gracefully adorn the buffet table or to add to floral centerpieces. Tropical flowers, including many associated with Hawaii, are sold in big box stores, supermarkets and nurseries.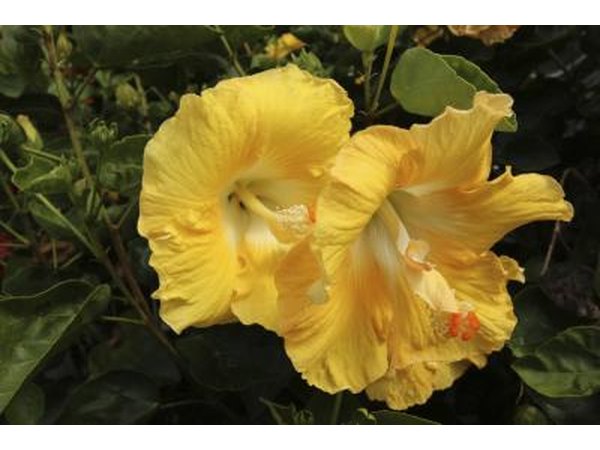 BLK_Design/iStock/Getty Images
Centerpieces needn't be expensive to be eye-catching. Using paints and a paintbrush, decorate coconuts with Hawaiian words such as "aloha" and tiny flowers. Place a couple of these next to a pineapple standing in the center of each table or every few feet on a long table. Alternatively, arrange whole topical fruits on cake stands for displays. Instead of purchasing coconut cups, cut coconuts in half and serve drinks in them, garnishing with a piece of pineapple.
Shaiith/iStock/Getty Images
Promoted By Zergnet