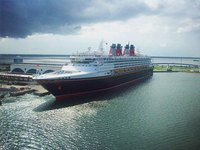 Disney offers cruises to the Caribbean, the Bahamas and Europe. There is also a trans-Atlantic cruise. All of the cruises have an informal resort feel. Most of the time, casual dress is appropriate. This includes shorts, t-shirts, jeans, slacks, exercise clothes, sundresses and bathing suits. The appropriate dress for evening dining depends on the night. Also, some of the on-board restaurants have their own dress codes.
Definitions
Disney cruises have four types of dressing other than casual: cruise casual, dress-up, semi-formal and formal.
For cruise casual, avoid shorts, swimwear, casual t-shirts and tank tops. Long pants (jeans are fine), skirts and collared shirts (including Aloha shirts and golf/polo shirts) are appropriate. Most dinners on the cruises are cruise casual.
For what the cruises call dress-up night, men should wear a jacket and women should wear a dress or pantsuit.
Semi-formal dress is very similar to the dress-up night clothing. Men should wear a jacket or a suit, and women should again wear a dress or pantsuit.
Formal dress means a suit or tuxedo for men and a dress or gown for women.
Dining
The length of the cruise determines the dress requirements for evening dining. On three-night and four-night cruises, there will be one dress-up night. On a seven-night cruise, there will be one formal night and one semi-formal night. On all the cruises, there will be one pirate/tropical night where passengers are invited to wear bright, tropical clothing or dress as a pirate. All the remaining nights are cruise casual.
Palo, an optional adults-only restaurant on board, has a dress code. Men should wear a dress shirt or jacket and long pants. Women should wear a dress or pantsuit.
Passengers often wear semi-formal clothes when they eat at Lumiere's, another on-board restaurant.
Packing
While packing, keep in mind that the ships have laundry and dry-cleaning services.
Adam Glassman, creative director for O Magazine, has a few suggestions for women packing for a cruise. He recommends bringing knits because they save space and don't wrinkle, keeping the colors neutral and choosing double-duty pieces.
When men are packing, they should think of what they would wear at the beach, then add in formal wear.