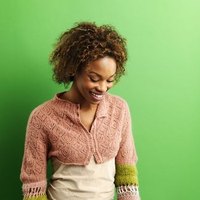 African-Americans can have various natural hair colors, but can also dye their hair different colors as well. To make the most complementary choice in hair color, consider your complexion and hair texture. Consulting with a professional stylist will help you get the best results.
Blond Shades
Dying African-American hair blonde can be very tricky, especially if the natural hair is chemically straightened and/or naturally black. The lifting process required to get a true blonde shade is too harsh for relaxed hair.
If your hair isn't chemically straightened, you can go with a blonde color, but golden shades look better on warm skin tones. Your complexion can range from light to medium light for the most flattering look. However, if your skin tone is very dark, a short blond haircut can be quite dramatic.
Blonde hair colors that look good on African-American hair should be more rich. Choose from shades like golden bronze, bronze and honey blonde.
Reddish Tones
Reddish hair colors can be very flattering to a wide range of African-Americans. You can try subtle red shades that are reddish blonde, reddish bronze or auburn. You can also choose bright, vibrant red shades that are close to the primary color red. Red tones look good on medium light or medium brown skin.
To color naturally black or deep brown hair, the process to achieve a red shade isn't as harsh as it is to get a blond color. Brown hair can usually be colored in one process (sometimes with an ash blond dye), while black hair may need to be lifted of color first before depositing the red dye.
Darker Colors
If you want your hair darker or if it's already dark and you simply want to impart some shine, you can choose deep brown or black hair color. Jet black is often too harsh for many African-Americans; it only looks natural and complementary if the complexion is very dark. Otherwise, stick to coffee brown or natural black.
Other shades that work well with medium to dark skin include plum and burgundy.
Choosing Highlights
If you don't want complete color, try highlights. If your hair is brown, light red, bronze or auburn, blonde highlights will look good on top of it. For deep brown or black hair, choose medium brown highlights. Highlights should be placed around the face and on the top of the head for the most flattering, realistic results.