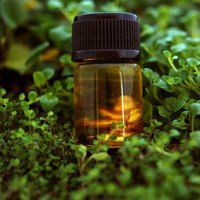 Dandruff is the shedding of skin from the scalp and can be caused by a wide variety of factors. Fungi and yeast are the most common culprits, but dry weather, bad hygiene, stress and anxiety, poor diet and even hormonal changes can cause an itchy, flaky scalp. In most cases, using a store-bought or homemade dandruff shampoo will clear up the problem. However, consult a physician if the condition persists or worsens.
Ingredients
Liquid castile soap is the base for homemade dandruff shampoo. Make sure you buy the unscented variety, as the scented types already have oils that may be detrimental to your condition. Liquid vegetable glycerin, dried herbs and essential oils are also required. All ingredients may be purchased at natural health stores, some hobby and craft stores or online.
Vegetable glycerin is a natural by-product of soap making derived from vegetable fat and water. It is useful for treating dandruff because it binds moisture to the skin and reduces dry, itchy flakes. Dried herbs can lend their healing properties to homemade dandruff shampoo when properly infused. Stinging nettle, rosemary, sage and thyme have all been traditionally used as well.
Essential oils are also very important. Lavender, tea tree, sage and eucalyptus essential oils are all believed to have antibacterial and antifungal properties that can reduce dandruff and itchy scalp. Any of these herbs and oils may be used in the dandruff shampoo recipe, so choose a combination that you most prefer.
Preparation and Use
Place two tablespoons of the dried herb of choice into a pint-sized mason jar. You may use more than one herb, but do not exceed two tablespoons total. Cover the herbs with approximately eight to ten ounces of boiling water, secure the lid tightly and allow the mixture to stand overnight.
In the morning, strain the liquid through a fine mesh sieve into a large mixing bowl and discard the spent herbs. Add four tablespoons liquid castile soap, one teaspoon liquid vegetable glycerin, and 30 to 40 drops of the essential oil of your choice.
Again, you may use more than one essential oil, but do not exceed 40 drops in total. As an example, use one tablespoon dried rosemary and one tablespoon dried sage to make the liquid. Then add 20 drops rosemary essential oil and 20 drops sage essential oil to make an effective rosemary and sage dandruff shampoo. Invent your own combinations, but make sure to stick to the herbs and oils that are effective against dandruff.
Whisk the ingredients together in the bowl to make sure the oils are thoroughly incorporated. Transfer the mixture to a plastic bottle and store it in the refrigerator until ready for use. If desired, you may fill a small bottle with enough shampoo for two to three days and store it in the shower. However, the mixture should not be left unrefrigerated for longer than three days.
Shampoo as usual at least twice per week, and follow with an apple cider vinegar rinse for best results. This dandruff shampoo cleanses the scalp gently and does not contain lathering agents. It won't produce mountains of suds but will work to reduce mild to moderate dandruff in most people.